The Collectors: Justine Ferreri
Sculptor and owner of Creations by Justine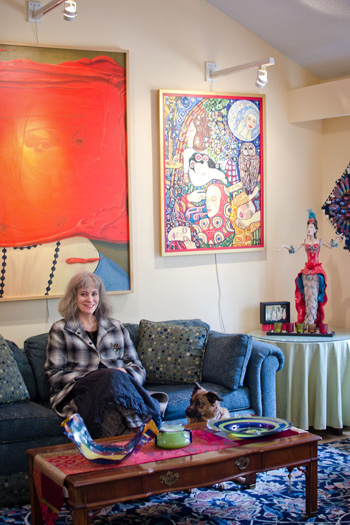 How would you describe your collection?
I collect everything. I love figurative sculpture, the human form.
Who is your favorite artist?
Gustav Klimt. I love the gold leaf in his works. I have a couple of favorite local artists too ― Rusty Hughes from Southport and this couple David and Veronica Bennett. They're glass artists.
What makes you choose certain pieces?
I buy because I love it. I fall in love. I like having something that lifts my spirit everyday … (For anniversary gifts, Ferreri and her husband buy each other art.) It's an amazing addiction, and I love it. I get to help artists.
LOCAL ARTIST HIGHLIGHTS
1. "Woman in Red" original painting by Rusty Hughes
2. original painting by Marie Shepherd
3. "Temptress" original sculpture buy Creations by Justine
4. Original glass art by Elena Wright
Click Here to read about the art collections of Terry Espy.
Click Here to rad about the art colelctions of Paula Lemme.
Click here for more photography by Katherine Clark.