Teaching Values
Volunteer programs for kids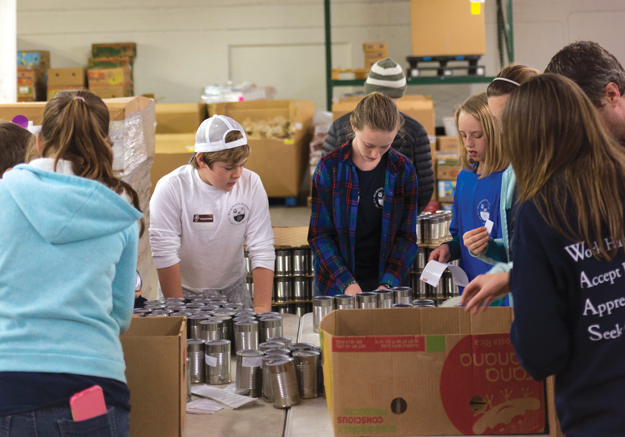 Community leaders often cite their parents' philosophies of service as the foundation for their roles in society. In the not-so-distant future, hundreds of Wilmington's children will also say that they grew up serving, often alongside their parents, thanks to several organized efforts in the Port City.
New Hanover High School boasts the only service-based curriculum in the state. The program is the brain child of co-principal James McAdams.
Two local parents, Elizabeth White and Liz Forkin, individually and simultaneously, brought NATIONAL CHARITY LEAGUE to Wilmington. The group just finished its spring membership drive for girls (and their mothers or guardians) in grades 7-9 and is looking forward to a big push in the fall.
And Wilmington Academy of Arts & Sciences (WAAS) board member and parent Brent Schraff heads up a parent/child volunteer program (WOW, which stands for WAAS Outreach Weekends and is shown on the previous page packing food boxes for NourishNC). It is beginning its second year with regular outings and the requirement that each child spends three hours each nine weeks in service.
When colleges look at applications, most check for community service. Students and counselors know this. It's important, but these efforts go well beyond the simple resume requirement to incorporating leadership skills and much more alongside instilling the importance of giving back.
NEW HANOVER HIGH's program is run by Elizabeth Felts (below, right) who helped design it. Now in its third year, the course is an elective to which students apply and are accepted based on their GPA, teacher recommendations, and much more.
"We focus on issues in the community and the world, on leadership, and other skills," says Elizabeth Felts, who leads New Hanover High School's volunteer program.
In addition to classroom time, the students go into the community for a minimum of forty hours each semester. They have more than thirty partnerships in Wilmington ranging from domestic violence shelters to animal welfare groups.
"We pair the students with their interests," Felts says. "We've had students take the course multiple semesters and accumulate more than one hundred hours of community service."
Zoe White, who is fifteen years old and a member of the Sea Turtle Chapter of the National Charity League, had much the same reaction with her Toys for Tots volunteer opportunity with her mother in December.
When her two-hour volunteer shift ended, she insisted on staying.
"Zoe helped the moms shop for their kids," says her mother, Elizabeth. "She said, by far, this experience at Toys for Tots was above and beyond any other experience she has had."
Additionally, WOW parents and organizers have found that the students are energized and challenged because they are volunteering with their fellow students.
Their format also includes a thorough introduction to the charity or organization where they are volunteering. They meet the director; they learn about the population being served; and they find out about the challenges being faced by that population. By the time they begin their service hours, the students have an understanding of why they are there and how they can make a difference.
The programs also make a difference in the students' lives. There have been multiple times that New Hanover High students volunteered in the field they intended to pursue as a career, only to discover that they didn't like it.
"The first semester I had a student who was extremely passionate about marine biology," Felts says. "She was dead set on going to UNCW to pursue that program; that was all she had ever wanted to do. She volunteered at the North Carolina Aquarium at Fort Fisher. Even though it is a fantastic program, she realized after three weeks that she hated marine biology."
The student continued her stint at the aquarium, but then volunteered with local giveback apparel and accessories business HALF United.
"She fell in love with it. She is now a business major at N.C. State because of that experience," Felts says, adding that another student is studying how to run a nonprofit at the University of Colorado Boulder because of her volunteer stint with the Blue Ribbon Commission.
Because the other two programs target younger children, the effect on their college and career decisions isn't yet known, but the programs are having a profound affect nonetheless.
Sea Turtle Chapter members have their own board of directors for each grade level, and the girls rotate through the positions, taking on leadership roles and responsibilities. While learning about each other and about service, they also learn about commitment.
"By the time they're in high school, (service) has become part of their routine," White says.
Schraff points out that while WAAS students are privileged to have supportive households, many of the individuals they serve in their volunteer capacity do not.
"This is the time when they're forming their opinions of the world," Schraff says, "so let's put them in places where people don't have the family support."
To view more of photographer Katherine Clark's work, go to www.katherineclarkphotography.com.