Taking the Field
World Cup Champion Heather O'Reilly visits Wilmington for fundraiser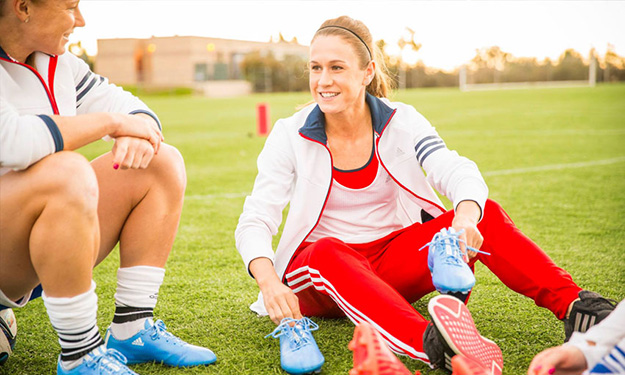 2015 Women's World Cup Champion Heather O'Reilly is coming down to Wilmington for the second annual Wilmington Hammerhead Youth Football Club Luncheon this week.
As a member of the United States Women's National Team, O'Reilly has a full and celebrated list of accolades: She is a three-time Olympic gold medalist and three-time World Cup medalist.
O'Reilly will be keynote speaking for the fundraiser, which starts at noon February 26 at the Cape Fear Country Club. She'll weave the story of her journey to the top. Tables for the event can be purchased at varying price points from $1,000 to $5,000. The event will benefit the Hammerheads Youth Football Club.
Now wearing the No. 9 jersey (the same number that Mia Hamm wore), O'Reilly began working for her career at a very young age. She cultivated a sense of competitiveness and self-discipline from her family, according to O'Reilly's website.
From 2003 to 2006, O'Reilly played for the University of North Carolina at Chapel Hill and led the school to victory in two national championships. During that time, she became the youngest member of the 2004 Olympic Team, playing alongside soccer powerhouses like Hamm, Brandi Chastain, Julie Foudy, and Kristine Lilly.
A midfielder, O'Reilly now plays for FC Kansas City.
Wilmington Hammerhead Youth is a nonprofit dedicated to offering every player equal opportunity to participate in recreational soccer. Its goal is to teach players that development of skill is more important than win-loss records.
O'Reilly will be available for a meet and greet at 11 a.m. prior to the luncheon, and afterward, there will be a separate ticketed meet and greet for players at the Capelli Sports Center. Players who attend the meet and greet afterward will receive a signed picture and have the opportunity to hear O'Reilly speak again in a more intimate setting.
Due to limited availability, $25 tickets for the meet and greet at the Capelli Sports Center will need to be obtained through Dani Pittman.
For more information about the lunch and tickets, click here.