Take 5 with Sadie Dearing
Needle Work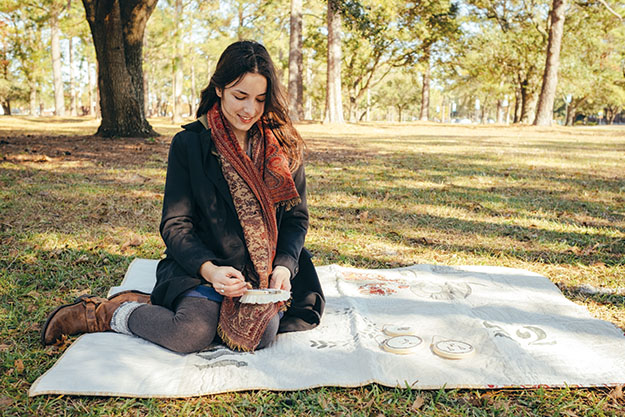 In an old-world-meets-new-world style, local embroidery artist SADIE DEARING, whose business SADIE'S STITCHES is based in Wilmington, incorporates the fundamental skills of sewing with images influenced by the metaphysical world, transforming self-reflective symbols into intimate pieces of detailed artwork.
Take 5 with Sadie Dearing
CAN YOU DESCRIBE ONE OF YOUR FAVORITE PIECES OF YOU'VE WORKED ON?
"My all-time favorite embroidery to sew was a tarot cloth for an energy worker that featured lots of very intricate lines and details. It is my most challenging piece to date and was so lovely to sew."
DO YOU COLLABORATE WITH OTHER LOCAL ARTISTS?
"I do! I have had the pleasure of contributing to a few local collaborations, but I am currently brewing up some magic with my friend Jillian of @TheWombRevolution who specializes in the Healing Arts. When collaborations like this come together, it is effortless and so joyful."
WHAT'S A SOURCE OF INSPIRATION FOR YOUR DESIGNS?
"What inspires me most is the diligent process of searching for the silver lining in all moments, the balance of presence and letting go. In the movement between pain and healing, or noticing and questioning, I find the most curious trails to follow."
WHAT'S THE HARDEST STITCH?
"For me, the hardest stitch is probably one of the most simple: the satin stitch. The satin stitch is often used to fill outlined spaces like leaves. It is really easy to do but very difficult for me to ensure smoothness upon completion, which, as you can imagine by the name, is quite the point."
WHAT'S NEXT FOR YOU IN 2019?
"I am really excited about 2019 because after a few years of awkwardly clawing away at online sales and marketing I have finally devised a strategy planned out for the entire year. I have no expectations of it going exactly as written, but I'm really excited to have a more well-defined structure within which I can measure my attempts and growth, and it will allow me to take notes and keep records in a more creative way than comparing columns of sales and expenses. Being an independent artist means I wear all the hats, and I have not previously been very good at nurturing all aspects of this job adequately. Writing out my strategy has made the 'boring' parts of the job as fun and creative as making the actual art, which will always be my favorite part every year! So, next is sustainable growth."
To view more of photographer Kevin Kleitches work, go to kevintitusphoto.com
Want more WILMA? Click here to sign up for our WILMA newsletters and announcements.