Take 5 with Cierra Washington
Filling a food gap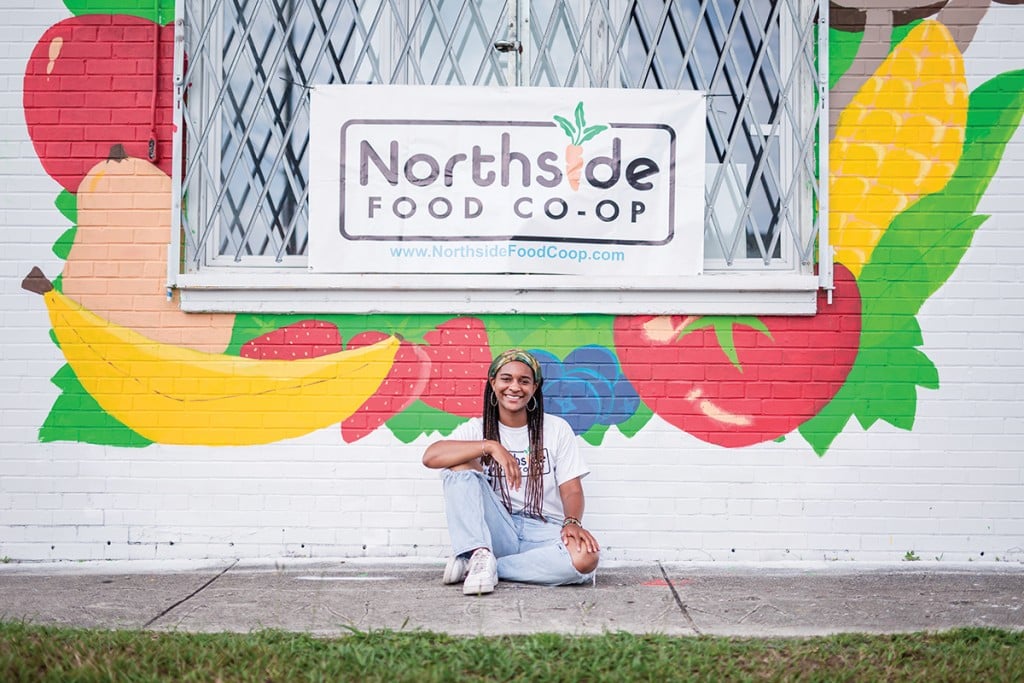 CIERRA WASHINGTON originally came to Wilmington as a University of North Carolina Wilmington student hoping to pursue film.
"I thought I was going to be a movie director," she says. "I loved sappy, sentimental films about people helping others, like Dead Poet's Society and Good Will Hunting, and I thought film was my calling. Then, during my freshman year, I realized what I really wanted was to be the person helping others. I was going to switch my major to social work, but my mom was afraid of burnout, so I chose psychology instead."
Washington graduated from UNCW in 2019 and started a job as a program associate at the Center for Healthy Communities. One of her responsibilities was serving as a bridge between the university and the community, focusing not just on public health, but also on neighborhood health.
Washington joined the grocery store task force and soon met the organizers of the Northside Food Cooperative. The more she learned about the co-op, the more interested and excited she became. The organization is a community-owned cooperative grocery store that is planned for the Northside of downtown Wilmington with the goal of ensuring food security and addressing the food desert.
She continued to volunteer and work with the organization and joined the co-op as a full-time employee in April 2021. One of her first big projects was organizing and launching Frankie's Outdoor Market, which held its grand opening in August.
"The goal of Frankie's Outdoor Market is to create an immediate remedy to food insecurity in the Northside," Washington says. "The Coop was getting some criticism about why it was taking so long to build a grocery store, and while we can make a lot of excuses—there's a lot of admin stuff happening behind the scenes, we're still securing funding, etc.—that doesn't help the people who need access to food right now. One of our committee members came up with the idea of a farmer's market and challenged us with a deadline. We took it on and eight months later, we opened."
Frankie's Outdoor Market is now open every Saturday from 9 a.m. until 1 p.m. in the lot behind 1019 Princess Street and continues to grow in size and scale. "We're currently looking to get more produce and meat vendors," Washington says. "That's the main focus of the market, but we've also opened it up to other Black-owned businesses in the area."
In addition to providing fresh, healthy food to the Northside, the market also serves as a signal to the community that the co-op is serious about its mission and goals, which includes being a part of the local community.
While the Northside Food Co-op has gained traction and support—it currently boasts over 420 owners and operates with the help of a grant from Novant Health—the group is not without some challenges. The biggest one is engaging with the Northside community. For example, social media has proven to be a great way to share information about the co-op's events and offerings, but Washington can tell that most of the people engaging with the content she creates are not necessarily the people the co-op needs to reach.
"We're currently looking at things more intentionally, finding ways to reach out that are safe and culturally appropriate," Washington says. "Canvassing in the neighborhood, for example, as well as passing out surveys to learn more about what people want and collecting data to make sure we're having an impact."
Washington draws inspiration from many of the Black, female activists who have come before her, such as bell hooks and Angela Davis, and their focus on the power of community movements.
"If you want change to be lasting, you have to make it the cause of the community," Washington says. "History books like to put men and women on pedestals, especially in the civil rights movement, when in reality it was a whole community that enabled those people to do those things."
For those who want to be a part of the co-op's growing community, there are a few different ways to get involved. "The number one way is to buy an ownership," Washington says. "If you're not ready to commit, come to one of our events, have a conversation with us, follow us on social media, join one of our committees. We appreciate financial support, but what we really want is for people to get involved in a real and consistent way. We're only a staff of two and there's plenty of work to do."
---
Take 5 with Cierra Washington
WHY DOES THE NORTHSIDE NEED A COMMUNITY-OWNED COOPERATIVE GROCERY STORE?
"Prior to 1898, the Northside of Wilmington was a thriving Black community, home to over fifty food-related businesses. After the 1898 coup, most of those Black-owned businesses disappeared. About thirty-five years ago, the only grocery store in the Northside closed down, and the area has been a food desert ever since, further disenfranchising this historically Black community. Over the years, a number of nonprofits and organizations have made efforts to fix this, but none have been successful. So instead of asking the city to do it, some nonprofit organizations and community members came together and decided to bring a cooperative grocery store to the neighborhood."
HOW AND WHY DID YOU GET INVOLVED WITH THE NORTHSIDE FOOD CO-OP?
"I graduated from UNCW in 2019 and was hired as a program associate by the Center for Healthy Communities, which is part of the College of Health and Human Services. One of our responsibilities was to be a bridge between the university and the community, focusing not just on public health, but on neighborhood health. I joined the grocery store task force, met Northside Food Co-op folks, and immediately got fired up about it. As part of my job, my supervisor let me continue attending the co-op meetings. I got more and more involved, started working for the co-op part time, and then joined the team full time in April 2021."
WHAT ARE THE BENEFITS OF BECOMING AN OWNER OF THE NORTHSIDE FOOD CO-OP?
"Anyone can become an owner for a one-time payment of $100, which is an easy way to support our mission and be a part of the solution. As an owner, you're also eligible to be on the board of directors, join committees, and help plan the startup and implementation of the store. It's a way to be a part of the greater movement to bring food justice to Wilmington."
WHAT HAS BEEN THE BIGGEST LESSON YOU'VE LEARNED THROUGH THE CO-OP SO FAR?
"I didn't study any of this in school, so I'm learning and advocating as I go. Learning looks different when you leave college, but you still have to invest in it. Also, collaboration is key. Working together rather than duplicating efforts, not always thinking you need to be the expert, being open to feedback, realizing you can't be everything to everyone, and remembering to take time to rest. Burnout is a serious risk."
SPEAKING OF REST, WHAT IS YOUR FAVORITE MEAL OR RESTAURANT IN WILMINGTON?
"I love Block Taco, which is connected to Satellite. Their fried mushroom taco is my favorite, and I'm not even a vegetarian. I can easily eat two or three at a time."
---
To view more of photographer Terah Wilson's work, go to terahwilson.com.
Want more WILMA? Click here to sign up for our WILMA newsletters and announcements.