Take 5
Interview with Blind Elephant owner Ashley Tipper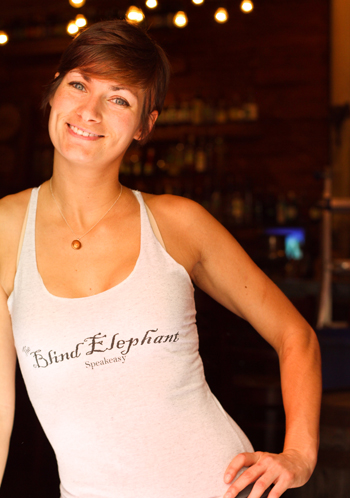 Tucked away in a downtown Wilmington alley, you'll find THE BLIND ELEPHANT, a low-key but lively nightspot with great bourbons and cocktails. While the place harkens the age of hidden speakeasies, owner ASHLEY TIPPER knows it's no secret that hard work goes on behind the scenes. At thirty-one and only a year in, she's already tasting success and shares what she's learned so far.
LESSONS LEARNED AS A YOUNG BUSINESS OWNER
"DON'T SWEAT THE SMALL STUFF. There are going to be tons of issues that arise, and some are bigger than others. Stressing or sulking won't solve anything; it will just contribute to your wrinkle count. Suck it up, and sort it out. Don't be afraid to ask for help. Wilmington is a great place to own a business. It's full of supportive people that want you to succeed, and just because this is your business doesn't mean you always have to go it alone. STICK TO YOUR GUNS, BUT LISTEN TO ADVICE. There's going to be A LOT of advice, whether you ask for it or not. Filter it and decide what makes sense to you. DO YOUR HOMEWORK. Know your field, market, and demographic. Develop a strategy to target your potential clientele. YOU CAN'T BE AFRAID OF FAILURE. That's how you learn. No one ever gets it perfect the first time."
To view more of photographer Amy Conry Davis's work, go to www.gypsypye.com.