Sweet Treat
COO of Fuzzy Peach Jason Nista gives us the inside scoop.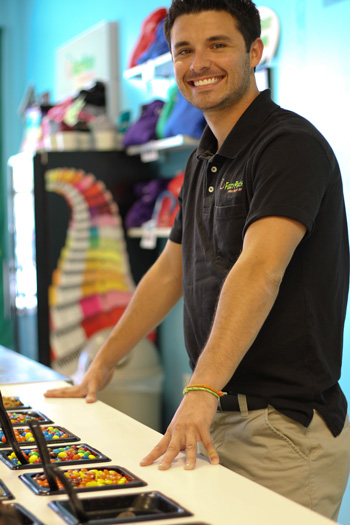 After a long day at the beach, nothing tops it off like a trip to The Fuzzy Peach Frozen Yogurt Bar. With its cool white décor, refreshing yogurt flavors and fun toppings, this local establishment hits the spot.
Chief operating officer JASON NISTA started the company in 2010 with college friends Wells Struble and Rocco Quaranto and it's taken off. Currently, there are five locations around town and it continues to expand both regionally and nationally.
"We were looking for something that was easy, fun, healthy and reflects our lifestyles and our age. Yogurt is a good thing. People like it so, we did it," he said. "It's cool that it's come along this way."
W: How did the name come about?
JN: We had notebooks full of names. We were putting adjectives and nouns together to try to come up with something that sounded cool. It got broken down and Fuzzy Peach was finally it.
W: What's your favorite combination?
JN: I usually eat Tart yogurt, one of our best sellers, with granola and fruit. That's it. It's pretty boring, but it's what I get everyday.
W: What do you do for fun?
JN: When I'm not here, I'm either working out, playing sports with friends or my nose is buried in a book.
W: What's a favorite book of yours?
JN: Dale Carnegie's How to Win Friends and Influence People.
W: Who is one of your female role models?
JN: My mom is who really shaped me into who I am. She was a CPA so, she hammered math home to me when I was growing up. It turned out to be the thing I was good at so, I just went for it.
W: What's something new you've done recently?
JN: I just joined up with a group called IMAF Cape Fear. We're angel investors here in town and we help other businesses get started with funding.
W: What is your best business advice?
JN: Keep working harder. Continue learning. We keep learning new things every day and every day they apply differently to business.