Support System
Volunteers Step In To Help Patients With Daily Life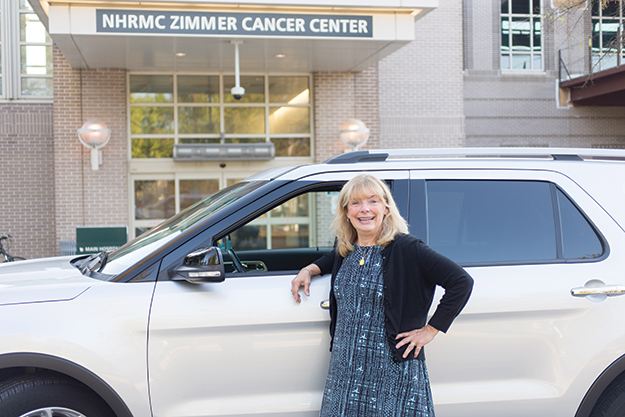 People suffering from a serious illness often require far more than just medical treatment. They might also need help with daily life.
Whether it's getting transportation to those treatments or having someone mow the lawn or take the time to talk, many acutely or chronically ill people in the Wilmington area rely on the kindness of others – volunteers like MARIANNE EISENHAUER-WALL (above).
Eisenhauer-Wall, a volunteer with the American Cancer Society's ROAD TO RECOVERY program locally, provides transportation to medical treatment for cancer patients who cannot drive themselves and have no other transportation. After moving to Wilmington from northern Virginia recently, she was looking for volunteer opportunities. She saw a newspaper item about Road to Recovery, which was seeking more volunteers.
"It caught my eye because in the early 1970s my mother had breast cancer and participated in the (American Cancer Society's) Reach to Recovery (breast cancer support) program. It really helped her, and she became a volunteer for it once she was in recovery," she says.
Eisenhauer-Wall contacted Yona BarZeev, director of Road to Recovery in the area, and learned about the program. She realized she had a second strong reason to get involved.
A close friend in northern Virginia had developed breast cancer and needed transportation services. Because she no longer lived there, Eisenhauer-Wall couldn't help her, but she could help others in similar circumstances, she decided.
"I tell my patients 'I'm driving you for the friend I can't drive,'" she says. "The patients are always so appreciative, but as much as they appreciate (the service), I get more out of it than they do. It's such a little thing for me, and it means a lot to them."
Road to Recovery has thirty-eight volunteers at present in the area, which extends through all of New Hanover County, south to Leland and north to Hampstead, Bar-Zeev says.
"Marianne is unbelievable. All our volunteers are unbelievable, and they are often involved with other organizations as well," he says, noting that while a radiation patient may go in for a fifteen-twenty minute treatment while the volunteer driver waits, chemotherapy patients' treatments can last from one to six hours. A current radiology patient must go for treatment twice a day.
"I'm really proud of them," Road to Recovery director Yona Bar-Zeev says of the volunteers. "We have not missed one ride since July 2015."
LUMP TO LAUGHTER, another volunteer-powered group, was founded locally by Connie Hill and Renee Ballard more than ten years ago. The friends, who journeyed through breast cancer together, decided to create an organization that would provide spiritual and emotional support as well as financial assistance to those diagnosed with breast cancer. Lump to Laughter now serves patients in eight counties in North Carolina and, with angel funding, is now able to expand nationally.
Numerous fundraisers during the year enable Lump to Laughter to maintain a fund to provide financial assistance to breast cancer patients who need it while going through treatment.
"We don't get involved in paying medical bills, and we don't pay for entertainment," says volunteer Susan Naumuk, who serves on a small committee that reviews patient applications for financial help. "We pay for things like food and rent – basic necessities. One woman who lives in Jacksonville, her husband had left her and she was having to walk to work at 11 o'clock at night. We hooked up with a car dealer in Jacksonville and bought her a used car."
Naumuk, herself a breast cancer survivor, often is the Lump to Laughter volunteer who gets phone calls from new patients with questions about what they face or what help is available.
"Sometimes, I'm on the phone for an hour or hour-and-a-half," she says.
And SAGE provides life-supporting services to older adults with illness or disability in the LGBT community.
Volunteers for SAGE, which stands for Services and Advocacy for Gay, Lesbian, Bisexual & Transgender Elders, can make all the difference to older people who may feel isolated, says Jeffrey Clayton Mills, director of the local affiliate, SAGE Wilmington of the Cape Fear Coast.
For one SAGE client, who moved to Wilmington from San Francisco and then had a heart attack, volunteers stepped in to ensure he had transportation to medical appointments and help with daily tasks, including walking his two dogs. The organization eventually helped him relocate back to California.
"We assist people with more than medical help," Mills says. "We had a SAGE client who was in the throes of his final illness. I'm proud of my SAGE members who stood up for him. He needed help with his Medicare application and later, with his application for hospice care when he learned that a lung transplant was not an option. He needed friendship to be able to stay in his home."
To view more of photographer Katherine Clark's work, go to www.katherineclarkphotography.com.