Studio Time
Folkster band members run local record labels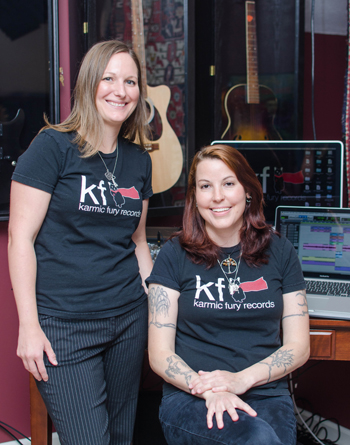 Not all local musicians can say that they create and produce their music from start to finish.
Co-owners KIM DICSO and SUE CAG founded KARMIC FURY RECORDS in 2012. After starting a band of their own, Folkstar, they wanted to record their first full-length album.
"We went back and forth for a long time and ended up deciding to build our own studio and learn the process basically from beginning to end," Cag says.
Glass-encased guitars line the maroon red walls of the studio that is set up in Cag's upstairs loft. A full band set, complete with drums, keyboard, and other instruments sits in the back of the room.
An overly creased couch beside the sparse recording setup on a desk is ready for when they need a break from work.
Dicso and Cag's day is not a 9 to 5 office job, but their work in the Hampstead studio never truly ends. Both women, who consider themselves perfectionists, record their own tracks, promote Folkstar, and conduct all levels of marketing. Additionally, they write show and album reviews.
"It's unlike anything that I've ever done," Dicso says. "No day is ever the same."
The cycle of work changes every few months. Last fall, Folkstar went on tour in Portland, Seattle, and San Diego. This summer, the band will go on a mini-tour to the Northeast.
In Folkstar's studio, Dicso and Cag produce songs about getting back to nature, animal rights, and social justice. During a recording stage, both women can work up to twelve hours a day.
Their music harkens back to older styles, without digitalization effects.
"I think people in the older generations connect to that," Dicso says. "If there's one moment, one lyric, one guitar solo that moves them then that's what I want people to get from it."
Cag says that it is more difficult for women to break into the recording industry because it's a majority male profession. She says, however, it's hopeful and encouraging that there are successful women in the business such as Ingrid Michaelson.
"It's definitely a boy's club in every aspect – as a record label and as a musician," Cag says. "But we do get a lot of support from male peers."
Both women agree that there's a need for a label like Karmic Fury Records in the community. Cag says that they get requests at least once a month and have to turn bands away. Once Folkstar slows down in the future, they plan on taking Karmic Fury Records further.
"We're basically using our own band as guinea pigs to figure out what to do as a label," Dicso says. "Hopefully we'll be able to take on bands that we see potential in."
The aim is to continue to give back to the local community by helping other aspiring bands and by giving people quality music to listen to.
"I want it (music) to change the world for the better," Cag says. "That's why I first loved music, because it moved me."
To view more of photographer Katherine Clark's work, go to www.katherineclarkphotography.com.