Strength in Numbers
Fitness group works to support the whole body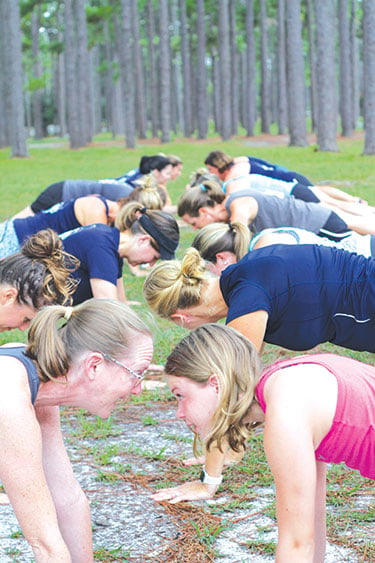 Females in Action, or FiA, launched in 2013 and is a network of free, peer-led workout classes for women of any age, background, or fitness level. FiA was designed to bring women together over fitness and create a community that goes beyond running or doing squats.
EMILY DAVIS, the Regional Q (leader) of the Cape Fear group of FiA, says the mission is to not only provide access to fitness classes, but also to make each woman who participates stronger in all areas of her life.
"FiA is a support system. It is a group that empowers women," she says.
Whether a woman is training for a marathon and looking for accountability, or she just wants to be a little more active and make new friends, Davis says the idea is to support everyone.
FiA classes, ranging from running to weights to boot camp, last about forty- five minutes and are led by volunteers from the group.
For "Friendly New Gals," or those who haven't been to a FiA class before, however, the format of the early-morning sessions is often quite different than other classes.
Exercises are done in a counted cadence, with the leader counting and the group responding.
Each session starts with a warmup and moves through a rigorous workout and abdominal routine called a "Mary."
The close of each session goes beyond just a cooldown, however.
First is the "Name-O-Rama," where the group goes around and says their birth name, as well as the nickname bestowed upon them by the group.
Names are given at the end of a participant's first workout and can be linked to the person's hometown, interests, or just the vibe of the group that particular day.
Then, the class leader of takes the group through a Circle of Trust, sharing a thought for the day, prayer, or time of meditation to help reflect on the group's goals.
Participants can then share anything on their minds or ask others to keep them in their thoughts.
The Circle of Trust, Davis says, is what sets FiA apart.
"It's our way of bringing everyone together at the end of a workout to show each other, we are here for one another," she says. "We are all in this together."
The model of FiA is based on that of F3, which stands for "fitness, fellowship, and faith," and is a peer-led national network of free workouts for men. F3 began in Charlotte in 2011, and women who were inspired by the concept launched FiA.
Now, the FiA Nation has grown to nearly four dozen groups, with new ones popping up all the time.
Last year, the concept came to the Cape Fear region.
"FiA was put together here because of men doing F3 and seeing how much they benefited from it and how it was having a positive impact on their family and lives," Davis says.
Like its counterparts, the Cape Fear chapter of FiA is made up of women of all ages and fitness levels, Davis says, including mothers, daughters, working women, stay-at-home moms, college students, and retirees.
The Cape Fear FiA group also meets regularly for social outings and gatherings and to serve the community.
"We all know exercising has benefits," Davis says. "FiA goes beyond the norm, helping to better each other's lives at a workout and beyond – in their daily routines and life outside of FiA."
Davis says it has been encouraging to see how the women in the group have been able to achieve their fitness goals while also how becoming close friends.
"It is so much more than a workout," she says.
Classes take place mornings throughout the week at Veterans Park, Ogden Park, Wrightsville Beach Park, and several other locations throughout the area. Registration is not required, but participants are encouraged to arrive a few minutes early as classes start promptly at the scheduled time.
For more info about the group, including a schedule of classes, go to fianation.com/nc-workouts/cape-fear-schedule or email fianationcapefear@gmail.com
To view more of photographer Amy Conry Davis's work, go to www.gypsypye.com.
Want more WILMA? Sign up for our WILMA Weekly email and announcements at WILMAOnTheWeb.com.