Storybook Career
Beth Staples' work with words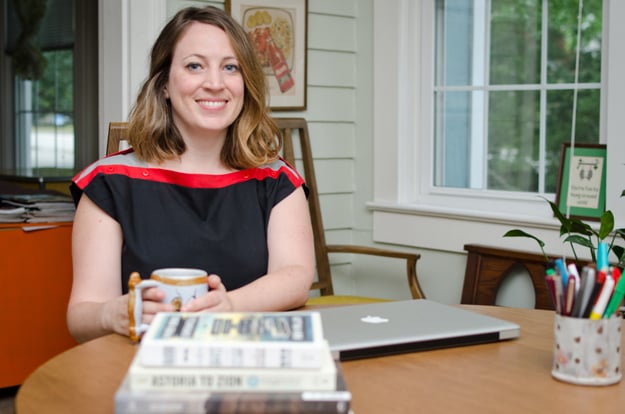 BETH STAPLES loves storytelling, and through several jobs, her work continues to convey a devotion to narrative – both written and verbal.
Once upon a time, Staples ventured upon a new story of her own. After receiving her master of fine arts degree and working as an editor at Arizona State University, she awaited a turning point and a change of setting. So Staples and her cat headed east, where she accepted a position at University of North Carolina Wilmington as the assistant director of The Publishing Laboratory and the associate editor for Lookout Books and literary journal Ecotone.
"I applied for the job, they called, and it happened really quickly," Staples says. "It seemed like a no-brainer. It was a chance to push myself."
And push herself she does. While working as an editor, Staples teaches courses in books and publishing, publishing practicum, bookbuilding, and special topics in publishing. With minimal previous experience in book publishing, Staples studied several aspects of book design to teach classes.
"I've talked about fiction and poetry, but not how to put them on a page," she says. "It's been really exciting for me."
Staples speaks fondly about her work as if she's setting a vivid scene. As a passionate reader, she hopes to connect with people through literature.
"It became my life to find a way to engage. I found that through books, so I wanted to find that way to take books and connect them back to people," Staples says. "I want to take those things I like and care about, that tend to happen in a very lonely space, and put them in a less lonely space."
Editing provides that outlet. Right now, Staples is editing Lookout Book's first novel. For Ecotone, she edits five prose pieces for each issue.
Through teaching, Staples articulates literary aspects of published work – like storytelling about storytelling. Her classes discuss publishing economics and ethics and book design and production. She envisions expanding class topics, perhaps by publishing stories gathered from other university departments.
Even after work, Staples thinks about collecting stories. Literally, she collects vintage clothing, which she sells on her Etsy shop called Rummy Vintage, her small business.
"Finding something that someone gave away, finding a new home for it, there's something very obviously nostalgic about it," Staples says. "The sentiment feels – the same way I feel about my grandmother telling me stories."
The local creative community motivated her to co-create Speak Easy Wilmington, a monthly storytelling contest that began in October. Staples calls it a return to the basics – a way to remember to "tell each other to tell stuff."
"I took the thing I care most about – reading and writing – and made it into a career," she says. "It felt a little confusing to make the thing you love most be the thing you have to do. Speak Easy was a return to sort of making it fun again."
Her work, she says, grew by following her interests. Her success grew by seeking her story's turning points, in hopes of a grand conclusion.
To view more of photographer Katherine Clark's work, go to www.katherineclarkphotography.com.