Spin Doctors
Local group forms a music management agency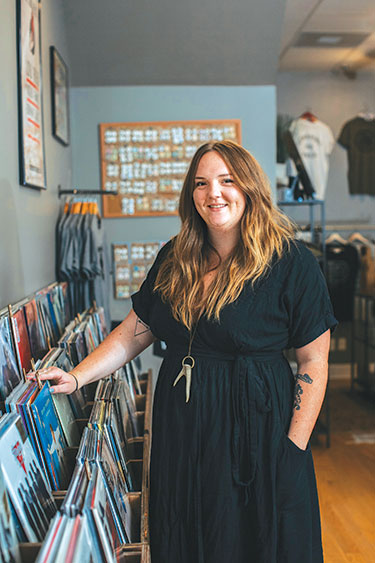 When downtown shop MODERN LEGEND began hosting indoor music shows, owner CATHERINE HAWKSWORTH saw an opportunity to offer managing and promotion services for musicians. Then came renting out venues for bands, and inspiration struck.
Hawksworth (left) and her partners realized they could create a business out of it, and BLANK AGENCY emerged.
Blank Agency, an artist management company that started earlier this year, has a name that serves many purposes. The term "Blank" exemplifies how open, varied, and multifaceted the company is, from the music style to the types of services provided.
MATTHEW MARINO is the videographer; HALEY SMITH is the photographer and social media coordinator; and MORGAN ROBERTS is the booking agent. Hawksworth also does booking, as well as management and promotion for bands.
Musicians can choose the type of services they need, from help with social media to more extensive needs covering touring, photography, managing, videography, and other promotions.
Blank Agency works with musicians from the Southeast region and quickly grew to include rock band Wax Imperials and U.N.I.T.Y., a rock, soul, and reggae group.
"We launched in January, and by the time March rolled around, we had like ten clients, so it blew up really, really quickly," Hawksworth says.
This success means Hawksworth is always busy.
"I wouldn't change where I'm at in this point of my life for anything," she says. "My life isn't like most people my age. It makes certain things hard – sleeping enough, dating, being social, separating work from my identity. It's definitely a challenge, every single day."
The first musician the Blank Agency signed on to record an album with was HALEY BANC. Banc is a singer-songwriter whose indie-inspired music resonated with Hawksworth. She describes Banc as a "hidden gem" and says she wanted to help Banc with recording her first full-length album.
"She is the perfect example of music in Wilmington that has so much potential, but either goes unnoticed or doesn't have the right people listening," Hawksworth says.
The album will be recorded at Bourgie Nights in downtown Wilmington in September and is expected to be finished in the spring.
While Hawksworth is busy setting up shows and managing both of her pursuits, she is still committed to the reasons why she started the businesses in the first place: her passion for music and the community.
"It's a business model, but it's also about music, art, providing something special, highlighting those who deserve it," Hawksworth says. "There's a certain magic that gets lost sometimes on this side of the music industry, and we work really hard to make sure that doesn't happen with us."
To view more of photographer Megan Dietz's work, go to megandeitz.com.
Want more WILMA? Click here to sign up for our WILMA newsletters and announcements.