Southern Visitors
Yndiana Montes markets Wilmington to Latin American travelers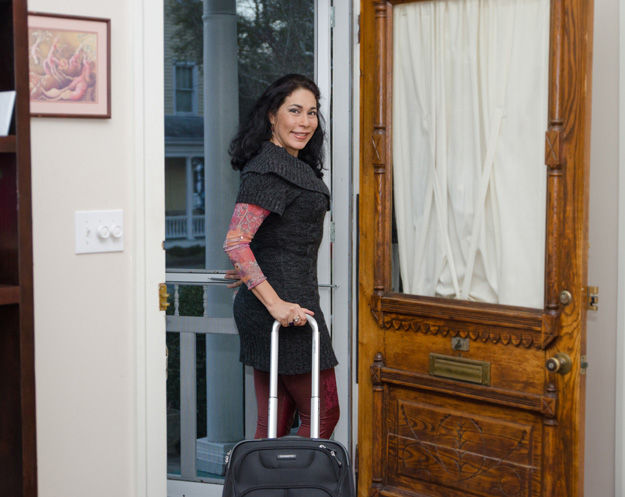 Yndiana Montes is a woman with many facets: traveler, businesswoman, award-winning travel writer, student, mother, grandmother, and life enthusiast among them.
After moving to Wilmington six years ago, Montes established an office for her company, SoloCaribe, which she runs with her partner, Bill Milligan. She met Milligan, a retired physician, after moving to Wilmington. They are media and marketing advisors for Caribbean and Latin American tourism boards, hotels and resorts, and related tourism entities.
They also established a website, VisiteWilmington.com, to appeal to Spanish-speaking travelers who might be interested in the Wilmington area. They say the Latin American market is wide open for the local region.
"In Wilmington it's still beautiful in winter," Montes says. "Latin Americans … will like the weather and the friendliness here in Wilmington. It has its own character, not like just another small town."
Montes came to the Port City from Caracas, Venezuela, to be near her son, who is now a graduate student at University of North Carolina Wilmington. She closed her SoloCaribe office in Caracas but still has employees working for her all over South America. Now that there is a baby granddaughter in the picture, her roots here grow stronger.
Travel these days is unpredictable, and travelers must prepare for delays, Montes says. She's a slow traveler now, meaning she wants to stay at least two weeks when she goes to a location.
"I don't want to be in an airplane all the time," she says.
With a list of accolades to her name, Montes has done her share of traveling and is passionate about it. She has been a newspaper editor, television and radio show host, and marketing advisor writing in Spanish and Portuguese.
Her father was a journalist and print shop owner, where she worked writing and printing from the age of nine. After college, Montes worked as a newspaper journalist, and while covering a music festival, she fell in love with the island of Aruba. She moved to the island, where she lived for two years, and got into tourism writing and marketing. There she discovered how much Brazilians love Aruba and how much she loves the Brazilian culture, so she learned Portuguese to communicate with her new market base.
"I have a corporate mind with a Caribbean heart," says Montes, laughing.
Her curiosity and love of people, music – especially Brazilian – dancing, theater, cultures, and tourism in general is contagious. She continuously uses the term "we" in relation to her company and employees. And her strategies have paid off.
With an extensive database of journalists and clients covering Argentina to Mexico, Montes wants to introduce the Hispanic community to the Wilmington travel market. In addition to outside visitors, she also courts the Spanish-speaking population close to home, saying she is happy about the number of American followers on Facebook.
Montes went to college in Spain to study paper engineering. She also spent a year in private school in Santa Barbara, California, where she learned conversational English, but she wants to perfect her English skills and perhaps go on to pursue a degree at UNCW.
"Now I'm a proud student at Cape Fear Community College," she says, "and I feel very happy and privileged to go there."
Travel Tips From Yndiana Montes:
Have a point of contact: a travel agent, native, or someone who can help you if something goes wrong, especially in a country where you don't speak the language.
Plan on long waits. Get to the airport early and bring a yoga mat for stretching.
Consider taking out a credit card that gives you early boarding privileges.
Take a travel mug and tea bags; ask for hot water in the airport or on the plane. Hydration is important.
Take your own snacks so they'll be higher quality, less expensive, and readily available.
For comfort, get an aisle seat so you can get up, and take a pillow, headphones to listen to music, essential oils, and a heating pad.
Be adventurous. Interact with people, stay with a family, have a learning experience.
To view more of photographer Katherine Clark's work, go to www.katherineclarkphotography.com