Sound Check
Trent Harrison on making records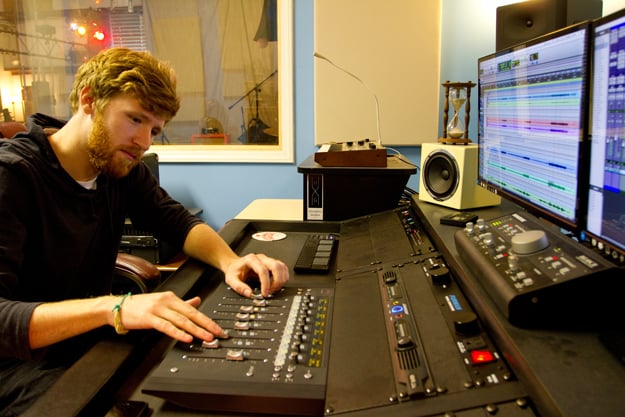 If the words reverb effect, baffles, and high hat make your ears perk up (and you actually know what they mean), then you probably have a lot in common with TRENT HARRISON of HOURGLASS STUDIOS.
For the past three years, he's been fine-tuning the acoustic stylings of area musicians interested in having their songs professionally recorded. It's a small, up-and-coming business, but both the studio and Harrison's vision for it are big on capturing and crafting the best sound possible.
W: How did you get interested in this field, and where did you study?
TH: I got interested in recording from high school. I started playing bass guitar and joined a band with a couple of buddies. When it came time for college, music was the thing I was most passionate about so I started thinking more technical and specialized in recording engineering at Guilford Technical Community College. Then I decided I wanted to further my education more, so I started to look at business schools and got my bachelor's in entrepreneurship at UNCW.
W: Walk us through a typical session…
TH: Depending on the project, we'd probably end up taking five to seven days to do every instrument individually. We start from the foundation – drums – then we move on to bass or guitar, then piano, and vocals are usually last. We build it like a puzzle. That's most common, and what I do most often.
W: What's happening in your control room while they're playing?
TH: After everything's set up, and microphones are in place, I'm using pre-amps, outboard gear, and software to get the right recording level or volume. If I need to tweak anything – compression, EQ – then I'm doing that. From there, we're talking through the headphones, just going through it and recording. After the band leaves, then I'm pressing a lot more of the buttons – processing, fine tuning, stereo spacing. I claim more to be an engineer than a producer. I do have creative input on the material, but it's more minimal, and it's usually more in the mixing stage.
W: Is there a story behind the name of your studio?
TH: I have this hourglass in the control room, this vintage old, wooden hourglass that was my grandfather's. I found it in the attic shortly after he passed away, and it was at the same time that I was trying to think of a name for the studio, so that's kind of where it came from.
W: What local musicians or bands have walked through your door as of late?
SM: I've worked with several bands that play around town fairly often. The most recent full-length album was a band called Nautilus. I was very happy with that record. Also, a guy named Josiah Carr and the band Groove Fetish.
W: After music, what else do you love to do?
TH: Snowboarding. I usually go every season. If I can't get out West – my favorites are Breckenridge or Deer (Valley) – then I go to Snowshoe.
To view more of photographer Amy Conry Davis' work, go to www.gypsypye.com.