Songs for the Season: Sara Westermark
Sara Westermark, singer and teacher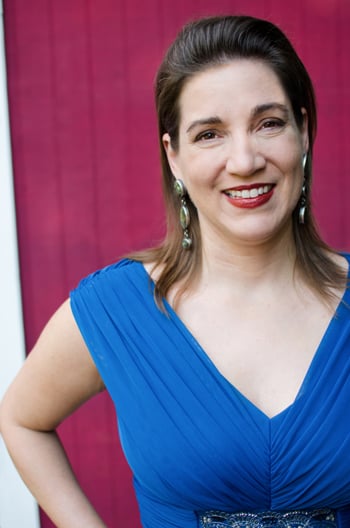 SARA WESTERMARK says she has always sung, even as a very young girl.
"I sang at the dinner table. My parents were generally pretty laissez-faire about my singing, but a friend of ours gave me lots of support, and I sang with my aunt, who was an opera singer," she explains.
Westermark's debut on stage was as an unnamed orphan in a production of Annie in her native Missouri. In junior high and high school she won awards for her vocal prowess but wasn't confident and concentrated primarily on playing the oboe.
Her first year in college, Westermark abandoned musical studies.
"I was burned out but then missed it," she says.
So she auditioned at the University of Missouri Columbia where she chose a music education track.
"I worked hard and studied all the time and made incredible progress," she recalls. After earning her bachelor's degree, Westermark stayed on, continuing to take lessons and teach.
She discovered that she had more than the gift of a beautiful voice; she was a gifted teacher as well.
Her first marriage brought her to Wilmington; her second marriage landed her in the midst of the very musical Westermark family. She also met local organist and choir director Larry Cook, who became a trusted mentor and helped Westermark find singing engagements. Her reputation as a teacher brought increasing numbers of promising voice students.
Then, in recent years, Westermark began having debilitating bouts of Lyme disease and a neck problem that required surgery.
"After the surgery, I wasn't sure I could still sing, but I took it slowly and started to train my voice," she says. "I was methodical and careful. Now I find, at forty, that I'm much more confident, I have more to give. My voice has gotten bigger, darker, and easier as I have gotten older."
Westermark also began making jewelry, an endeavor that provides enough income that she doesn't feel pressured to take on more teaching or gigs than she can manage successfully.
"I love my students, follow them, and prepare them for competition and the professional track – to do what I didn't, couldn't do," she says.
"I never found that support I needed to develop my own career, but the wonderful thing about having all those experiences is I can use them to help my students."
Several of those students have won major competitions. Some have continued their studies at the prestigious University of North Carolina School of the Arts.
Westermark continues to perform when the right opportunity arises. This month she will sing the role of the mother in Gian Carlo Menotti's opera Amahl and the Night Visitors.
The role, she says, is challenging because she must make the volatile character – a desperately poor mother of a crippled son – believable.
On the other hand, Westermark says, "The role fits my voice so well. I'm able to make big leaps; it feels so easy to sing."
Amahl and the Night Visitors
Sara Westermark performs in the one-act opera, which was initially staged and broadcasted Christmas Eve 1951 and became the first opera commissioned for television.
December 7 at 8 p.m. and December 8 at 4 p.m.
UNCW Kenan Auditorium, Ticket info: www.wilmingtonsymphony.
Click here to read about ILM diva, Marva Robinson.
Click here to read about ILM diva, Laura McFayden.