Smarter Sips
Learn While You Imbibe With A New Pub Crawl History Tour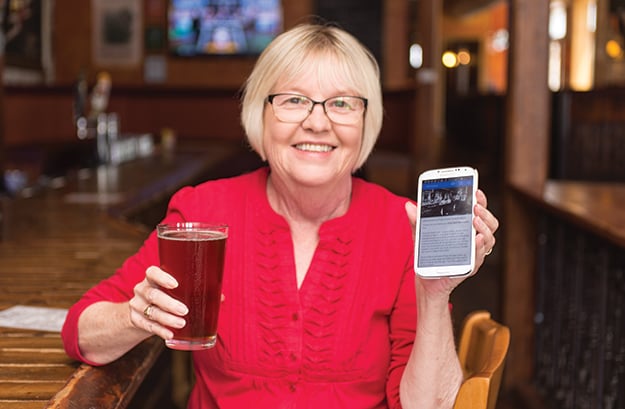 Know which popular downtown Wilmington pub was once the site of a '70s adult bookstore? What bar appeared as a cantina in the Sins of the Jedi movie? Which watering hole now resides in a building that was once the victim of an elaborate heist? Questions like these (and many more) can be answered in one app.
Local historian BEVERLY TETTERTON (above) and business partner DAN CAMACHO, creators of the Wilmington.tours app, recently launched PUB CRAWL WILMINGTON, a tour that features trivia inspired by Wilmington's unique drinking history.
Other tours by their company, Java Dog Press, include Old Wilmington and Civil War Wilmington. Their latest creation stands out among the rest as a read-along tour focused primarily on the history of alcohol and its local influences.
Since its release in late June, Pub Crawl Wilmington has offered historic images and information to those interested in the fascinating stories that line the walls of stops such as Front Street Brewery, Blue Post, Slice of Life, and Paddy's Hollow.
"You just can't make this stuff up. It's fun to embellish and make things up, but if you look at the real history of the world as well as local history, it's far more interesting," Beverly Tetterton says of her research experience for the tour.
The Pub Crawl Wilmington app is $3.99, the price of a good beer. The tour features information linked to thirteen downtown locations, all of which include both current and historic images. One can also enjoy a detailed history of alcohol before Wilmington, which kicks off with our ancient ancestors and the intoxicating innovations made in Egypt and Mesopotamia.
Then comes the history of early Wilmington's colonial craving for liquor. Also included in the tour is "The Ultimate Beer, Booze & Wilmington Quiz" to challenge sober and tipsy brains alike.
"The pub crawl app was created so that people can learn while they have fun," Tetterton says. "Dan and I imagine two people sitting in a pub, saying, 'Did you see this app? Do you know what happened in this place?'"
Tetterton's love of history and culture inspired her to investigate what it is about alcohol that brings people together. Her discoveries of timeworn traditions and social trends fueled Pub Crawl Wilmington so that everyone can understand and appreciate the relationship between drinking and mingling.
"Beer became an event. You would go and drink together. It weaves its way in and out of the history of everything we do and have done since the beginning of time. People fought wars over it; they climbed mountains, traveled to far parts of the world for ingredients," says Beverly Tetterton.
Tetterton and Camacho have plans for a future tour focusing exclusively on the local history of wines and cocktails. Similar to Pub Crawl Wilmington, this tour is expected to educate and intrigue those who enjoy adding history and hilarity to their order.
"Older people are more interested in history," Tetterton says. "Young people know how to use apps. With the pub crawl app, we've seemed to bridge the gap between these demographics."
To view more of photographer Katherine Clark's work, go to www.katherineclarkphotography.com.