Setting the Stage
Check Out: Travis Sullivan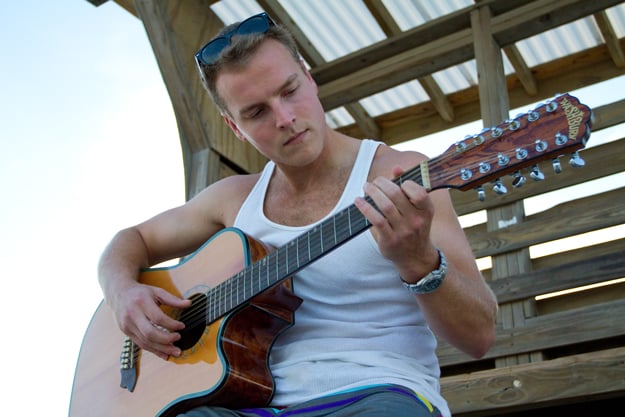 If TRAVIS SULLIVAN, 22, could "set dress" his life, music, movies, and travel would fill the scene. Having worked in the film industry for the past three years, though, he knows it takes a lot of hard work to create the perfect vision. In life, as in movies, those moments don't just magically appear – someone has to dream it, build it, and put it all together. So, he's working his way up in the Wilmington film industry, he just recorded his first "official" album with twelve original songs, and he's busy making plans for a move out to Los Angeles to take his story one big step forward.
W: What do you love about movies?
TS: I love movies because anything is possible. That's one of the main reasons I'm interested in acting, because I could potentially do things that aren't possible in real life.
W: What are some favorites?
TS: The Godfather, Star Wars, Indiana Jones. Anything by Quentin Tarantino.
W: What job are you working on right now?
TS: Sleepy Hollow. We're filming at the old hospital in Brunswick County.
W: What else have you worked on in the past?
TS: Revolution, One Tree Hill, Chernobyl Diaries.
W: What's a typical day like?
TS: On set, I can be working my butt off half of the time and not doing a thing the other half. When we set up for a new shot or new scene, I go to work.
W: What instruments do you play?
TS: I play guitar and bass, mostly stringed instruments. I'm trying to teach myself the piano.
W: Do you have a favorite musical influence?
TS: Jimi Hendrix.
W: Favorite song of his?
TS: "Sometimes" from the People, Hell and Angels album.
W: You've done open-mic nights around town. Where do you like to play?
TS: Reel Cafe is probably my favorite spot. I've also done Surf's Bar & Grill and Local's Tavern.
W: Johnnie Mercers pier has sentimental value to you, why is that?
TS: As a kid, I spent a lot of time here surfing, and I have good memories. The pier was always in sight from where I was at.
W: Why do you love traveling?
TS: I love travel for culture, wildlife, food, new landscapes, new experiences.
W: Where have you been so far?
TS: I just went to Costa Rica. I took a month off between jobs. I've also been around the Caribbean and Mexico.
W: Next trip on your bucket list?
TS: Brazil for the World Cup or somewhere in South East Asia or Africa.
W: What do you like to do when you travel?
TS: Surfing, hiking, diving. My vacation of choice is "off the radar." I like to really getaway from the hustle and bustle, anywhere with more trees than buildings.
To view more of photographer Amy Conry Davis' work, Visit http://gypsypye.com/