September's Take 5
Lesley Tamaev's remnants of inspiration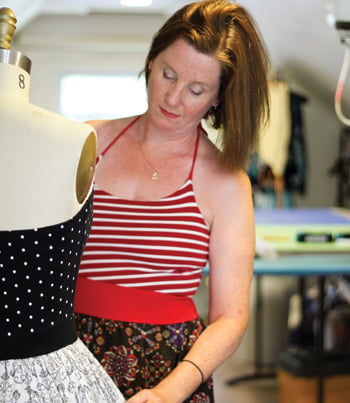 (UNLIKELY) DESIGN INSPIRATIONS
"Curtains: I made a pretty sexy V-back dress with lace-up details from a brocade curtain that I somehow liberated from a nightclub. I wore it to the same club the next week. I still love to use vintage brocades mixed with velvet for holiday party dresses.
Tablecloths: I make a lot of reversible headscarves and hairbands – usually one side is patterned, and one side is solid. White is very popular, so I am always looking for textured or novelty fabrics in white. In a bind, with no white to be found, I cut up my vintage tablecloth. There are a lot of women with a little bit of that tablecloth in their headscarf.
Rugby shirts make great layering pieces. I usually cut, patch, and drape for fun cardigans in fall time.
Sweaters: I have cut and sewn sweaters into cute little shrugs and ponchos. Best to boil them first for a felted effect.
Remnants: Most of my day dresses are made using a mix of knit and woven fabrics cut from shirts, skirts, and T-shirts. I usually see a print that appeals to me, and I figure out what the garment will be later."
To view more of photographer Amy Conry Davis' work, go to www.gypsypye.com.