September Spotlight
Wilma's New Duds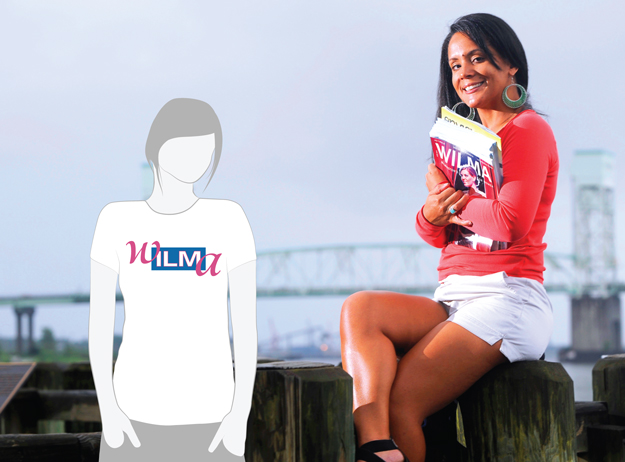 WILMA's T-shirt design contest was a hit! After reviewing the entires, we are proud to announce our winner, Yajhayra Maria. Visit the online store of WILMA's website – www.wilmaontheweb.com – to order the winning design.
Maria's inspiration for her design was the ILM airport—the first thing she saw when she arrived in Wilmington. She lives in Miami but spends her summers in Wilmington as an actress. Maria has worked on sets such as Iron Man 3 and was a stand-in for Revolution this summer.
Random House publishes new local novel
The Memory Thief, a novel by Emily Colin was published by Random House last month. The novel involves a tangled web of characters surrounding a fatal mountaineering avalanche accident, a motorcycle crash, haunting images and memory loss. Online book review Booklist identified Colin as "an author to watch and savor."
She is the associate director of DREAMS of Wilmington. The Memory Thief is her first novel.

You can view the trailer for her book at http://www.youtube.com/watch?v=QMIjPV0TtYU.
First N.C. state butterfly
North Carolina has never had a state butterfly…until now. The eastern tiger swallowtail struck the interest of Frances Parnell about 10 years ago. With the help of Marie
Ashworth of the Cape Fear Garden Club, Parnell petitioned state Sen. Thom Goolsby, R-New Hanover, for assistance.
The committee garnered support from the Garden Club of N.C., and state legislators passed the state butterfly bill 40-3 in favor of the eastern tiger swallowtail on June 15.
The new official state butterfly can be spotted by its yellow color and black stripes and is found in all 100 North Carolina counties.
N.C. Aquarium educator chosen for ecology trip
Education curator at the N.C. Aquarium at Fort Fisher, Jennifer Metzler-Fiorino, was chosen to participate in the Museum of Natural Sciences Educators of Excellence Institutes. She was one of 46 North Carolina educators, and the only one from the area, selected to travel to Belize this summer. She and 11 fellow educators studied the similarities between regional North Carolina ecology and the tropics through observing the wildlife, the rain forest, Mayan ruins and coral reefs.
The Educators of Excellence program aims to inform and empower educators to teach students about North Carolina's ecological connections to the rest of the world.
Local book club to Skype with author
PAGETURNERS BOOK CLUB's September selection is Augustus: Narrative of a Slave Woman by Robin Greene. Book club member Elaine Porter organized a discussion via Skype with the author, who was her colleague when she taught at Methodist University.
The idea for the book came after one of Greene's students invited her to hear and transcribe her grandmother's oral history. Greene offers book clubs a discount on orders of five books or more, discussion questions and contact information for Skype sessions. ~Susan Hance