September Spotlight
Area women making news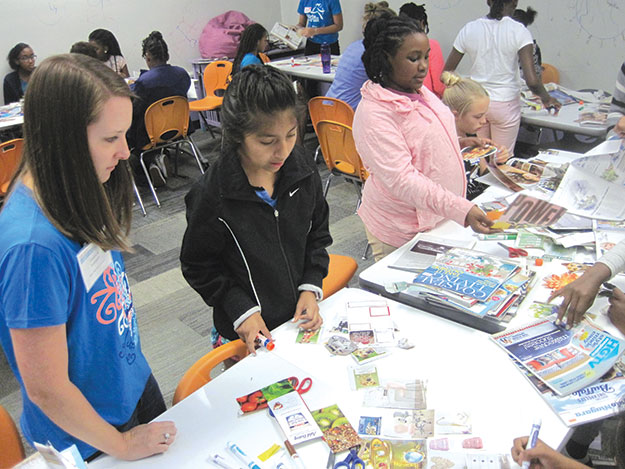 LEADERSHIP INSTITUTE VISITS GLOW
Members of the 2018 WILMA's Leadership Institute visited last month with incoming students of Girls Leadership Academy of Wilmington (GLOW).
The six-graders interacted with members of the Institute, a group of twenty-five women who have spent this year on leadership development training.
As part of the Institute program, members organized a half day of enrichment activities for the girls focused on setting goals for the new school year and team building as they get to know their new classmates.
GLOW opened in 2016 as the state's first all-girls charter school. The Institute is part of WILMA's Women to Watch Leadership Initiative.
SMART START NAMES BOARD OFFICERS
SMART START OF NEW HANOVER COUNTY's board of directors recently approved a slate of officers.
Among them was KHADIJIA TRIBIÉ, a pediatrician at MedNorth Health Center who took on the role of board president.
Tribié (left) has worked at MedNorth since the beginning of 2012.
She received her bachelor's degree in French Studies from Duke University and her medical degree from Morehouse School of Medicine. Tribié did a pediatrics residency at Tulane University.
Smart Start of New Hanover County, a nonprofit, is part of Smart Start, North Carolina's Early Childhood Initiative and "serves as a local leader in developing a comprehensive, collaborative approach to serve the needs of all children, birth to 5, in New Hanover County."
Other recently elected board officers were: Justin Lewis (vice president), Betty Clark (treasurer), and Meredith Jones (secretary). The board also approved new terms for Ken Sarvis, Justin Lewis, Bernie Baker, Jennifer Varella, Lisa Trotta, Mary Cato, Meredith Jones, Diane Pappayliou, and Ashlye Hernandez.
HUMPHRIES ELECTED AS PRESIDENT OF CWA GROUP
COASTAL WOMEN ATTORNEYS elected JESSICA HUMPHRIES, an attorney at the Hamlet & Associates law firm, as the group's president.
Coastal Woman Attorneys, is a chapter of the North Carolina Association of Women Attorneys Inc. The group was formed in 2013 to serve female attorneys in the 4th, 5th, and 13th Judicial Districts that cover New Hanover, Pender, and Brunswick counties.
CWA hosts Continuing Legal Education seminars, after-hours social networking events, and other special events.
Humphries graduated with a bachelor's degree in political science from the University of North Carolina at Chapel Hill with a minor in chemistry.
She moved to the Wilmington area and attended Cape Fear Community College, where she earned paralegal certificates in civil litigation and real property.
After completing the CFCC program, she worked as a paralegal for more than two years before going to law school. She attended Campbell Law School and graduated cum laude. She has worked since 2012 at Hamlet & Associates, where she practices construction law and civil litigation.
TERRY EARNS COASTAL FEDERATION AWARD
The North Carolina Coastal Federation recently handed out its 2018 PELICAN AWARDS to individuals and organizations playing a role in keeping the state's coastal environment healthy.
New Hanover County resident ANNE TERRY received a Pelican Award for her volunteer work with the federation.
She started volunteering with the group several years ago, "and has played an active role in protecting the environment and giving back to the community," according to an announcement.
"She is an inspiration to those who care for the environment and work hard to protect it," group officials say.
Terry also volunteers with Airlie Gardens, Friends of Pleasure Island State Parks, Cape Fear River Watch, and Ocean Friendly Establishments.
"I was surprised to receive a letter announcing I had been chosen as one of the recipients of the Pelican Award," Terry says. "It has been my pleasure to support such a wonderful organization and the hard-working staff at the Wrightsville Beach office that does so much to protect our coast."
Other Pelican Awards for coastal stewardship efforts went to Wrightsville Beach Brewery; the town of Holden Beach, Dunescape Property Owners Association, and Holden Beach Property Owners Association.
In all, ten awards were presented to people, community associations, businesses, and government agencies this year.
Want more WILMA? Sign up for our WILMA Weekly email and announcements at WILMAOnTheWeb.com.