September Checking Out: Mix Master
Gabriel Jordan, Head Bartender at City Club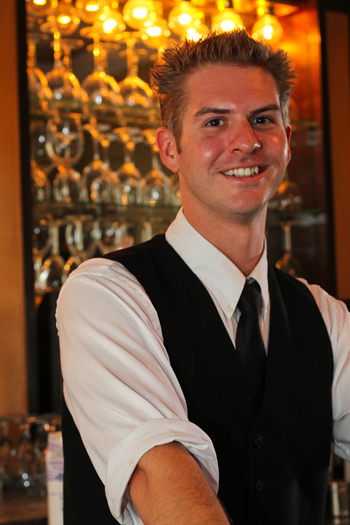 I f you want to know about top-shelf liquor or great wine, GABRIEL JORDAN is your man. As head bartender at the City Club, he knows his way around a cocktail and has been perfecting the art for the past seven years. But he's also a small-town kind of guy who appreciates his roots and time spent with family.
"I'm originally from the Outer Banks-Kitty Hawk, N.C.  It was awesome – the kind of place where everybody knows everybody. I grew up deer and duck hunting with my dad and ate some of the best food I've ever eaten in North Carolina."
W: How did you get started and where else have you worked in Wilmington?
GJ: At 18, I started bar-backing at the busiest bar in the Outer Banks called Quagmire's.  I've also worked at Duck and Dive, Goat and Compass and Elijah's.
W: What do you enjoy about this type of work?
GJ: Sky's the limit with bartending. You can go anywhere in the world and do it. It's a good way to meet people, and I learn something new every day.
W: Any future plans for all of this experience?
GJ: I'm trying to start up my own little side business for private events, weddings, parties. It's called Educated Ice.
W: Do you have a signature drink here at the City Club?
GJ: The Cape Fear Cosmo. Me and Greg Matheson, the bar manager, made it up.
W: If there was anything else you could be doing what would it be?
GJ: Something to do with ESPN – like a news reporter. I love to travel all over the country to various sporting events and see different stadiums. I go to Green Bay (Wis.) every year with my family.
W: Ah, so you're a Packers fan. Have you worn the cheese?
GJ: I have. I have everything you can imagine. My dad spent $30,000 on an extra room at our house which is green and yellow. Needless to say, we're not bandwagon fans. To view more of  Amy Conry Davis's work, visit www.gypsypye.com.
W: What are your favorite places to go in town?
GJ: I only get one day off a week, but I do like Mellow Mushroom and the Tiki Bar at Carolina Beach.
To view more of photographer Amy Conry Davis's work, click here.  www.gypsypye.com.