School Project
Friends School's Brenda Esch readies for campus project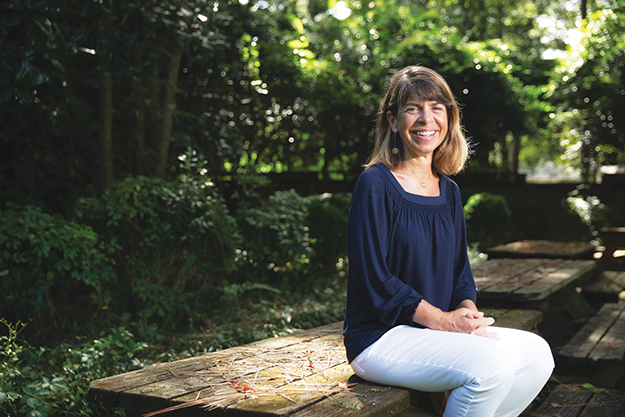 BRENDA ESCH did not initially plan on being a teacher, but she found her way to it naturally.
Esch has fourteen years of experience in teaching, where she has worked at many Friends Schools in New Jersey, Pennsylvania, and Tennessee. She became head of school at Greenwood Friends School in Pennsylvania in 2008 and eventually made her way to Wilmington, where she became head of school at Friends School of Wilmington in 2012.
Her journey as a teacher began after she graduated from Guilford College, where she got to experience what it's like working with kids.
"I didn't have a grand plan for my life," Esch says. "I worked for a year in Washington, D.C., and part of that was hosting student groups on Capitol Hill. And, that was the first time that I worked with groups of students that led me to my first teaching job."
After being a classroom teacher, Esch became a master teacher, in which she helped other teachers with their goals. This is when Esch realized how much she enjoyed working with teachers and students to enhance the whole schooling experience, and that made her want to become head of school.
"I was led into administration because of my love of teaching and wanting to work with teachers and families," she says. "I also always loved the kind of thinking that comes along with being an administrator, which is that big picture institutional thinking, seeing the moving parts in a school."
Esch has chosen to work in Friends Schools because of the long history it has with Quaker education and its different approach to teaching, which focuses on intellectual and spiritual integrity.
"There is whole-child education, all the way through mindfulness education, which has come into the mainstream now that we have brain science that tells us what's going on in the brain, and people have found that mindfulness training helps students learn well," she says. "Friends School had been practicing that because of the Quaker influence since they began in the late 1600s."
Esch says students get to have class outside, experience hands-on learning, have silent reflection time, and physical education every day.
There are two Friends School of Wilmington locations, its Pine Grove campus for pre-K through second grade, and its Peiffer Campus for third through eighth grade.
The newest project Esch is undertaking is combining both campuses into the Peiffer Campus. The project involves a multipurpose building, cottage-style classrooms for pre-K through third grade, a new entrance, and outdoor classroom gardens.
It will be done in phases, with the multipurpose building projected to break ground in March and open in October of next year.
Esch says the idea for the unification came after having conversations with parents and the community.
"We realized that a central gathering place is key, and it's something that we don't have," Esch says. "We have two campuses when we gather as a school. We gather in beautiful spaces outside, but we need a gym, we need a stage, we need to have a permanent building that is a legacy project where we know it's going to be here for the next hundred years."
To complete the project, the school has a Building Friends Campaign, which has a goal of raising $6.9 million – $3.5 million of that for the first phase. Esch says they have raised over $1 million so far.
The goal of the unification is to provide a space for the whole community, she says.
"One of the things that feeds our vision for this project is not just for the students who are currently here, but for Wilmington. And, one of the ways that we're going about communicating that is by trying to make visible our diversity and inclusion initiatives," Esch says.
The new project has added to the list of things Esch does daily as head of school, but that is something she welcomes.
"One thing I love is that no two days are the same," she says. "An important part of my work is to know that I'm going to be doing a lot of different things on any given day. Number one is coaching teachers working with students as they come and go from classrooms and working with families, which a huge part of education today is to make sure that parents are supported in the work they're doing."
To view more of photographer Chris Brehmer's work, go to chrisbrehmerphotography.com
Want more WILMA? Sign up for our WILMA Weekly email and announcements at WILMAOnTheWeb.com.
Take 5 with Brenda Esch​
WHAT HAS BEEN THE MOST REWARDING ASPECT OF WORKING WITH STUDENTS? "Ensuring that they grow up with their curiosity and love of school intact. There is nothing better than accompanying students on that journey."
WHAT WOULD PEOPLE BE SURPRISED TO LEARN ABOUT YOU? "That I'm a Quaker. Unlike the Philadelphia area, for instance, where there are thirty-plus Friends schools and lots of Quakers, I've had a chance to introduce myself to many people in Wilmington who have never met a Quaker and are surprised that we are 'modern,' innovative members of this community."
WHO INSPIRES YOU AND WHY? "My son and daughter inspire me. They are in their mid-twenties and are both independent, insightful people who stand up for what is right. They are managing the digital age with incredible finesse and giving me lots of essential, excellent advice."
IF YOU HAVE A FREE DAY ALL TO YOURSELF, WHAT ARE YOU MOST LIKELY GOING TO DO? "I'm likely to have planned a day trip to the Triangle or Greensboro for dinner and a concert with friends. Or, stretch one free day into two and head to D.C. where my kids live. I love our nation's capital, and I love to drive."
WHAT ADVICE DO YOU HAVE FOR THOSE WHO WANT TO BECOME TEACHERS? "Investigate all of your options and find a school that is a good fit for you, a place where you can bring your whole self to work. There is no more rewarding profession than working with students and with colleagues who make you better than you could ever be alone."