Saving the Past
Individuals and groups are working to save Wilmington's historic buildings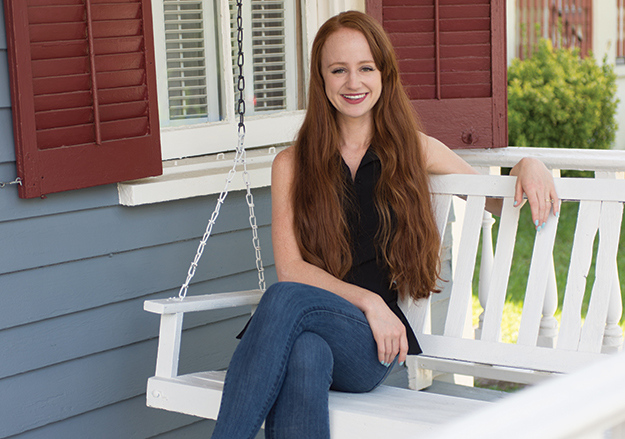 ADRIENNE HODGES and her husband, Josh, don't consider themselves "flippers."
Rather, they have a passion for renovating historic buildings in the Wilmington area and sometimes they need to sell them – or flip them, in real estate parlance – to start another renovation project.
Adrienne (above) and Josh Hodges started the NORA ALAN GROUP LLC (made up of both their middle names), a real estate group that has worked on several downtown projects.
In January, North Carolina's historic preservation tax credits were revived after the General Assembly allowed an earlier statetax credit to lapse at the end of 2014. In essence, the homeowner receives a 15 percent credit, worth up to $22,500, against their state taxes for approved expenses when restoring or renovating older buildings listed on the National Register of Historic Places or contributing to a listed historic district.
The state's credits also supplement a 20 percent federal historic tax credit for income-producing buildings that's been in effect since the mid-1970s.
Aside from the people who actually restore the aging buildings, several area organizations also help preserve these slices of local history, as well.
For instance, the HISTORIC WILMINGTON FOUNDATION, which is celebrating its fiftieth anniversary this year, "has worked to protect and preserve the irreplaceable architectural and historical resources of Wilmington and the Lower Cape Fear region," according to the nonprofit group.
Foundation Director GEORGE EDWARDS says the organization has helped save nearly 115 historic buildings through its loans and easements. Its example and advocacy have likely saved hundreds more, he adds.
The foundation set up the first revolving fund of its kind in North Carolina designed to help save historic properties by buying them, placing protective easements on them, and selling them for rehabilitation.
Other foundation initiatives include a plaque program begun in 1966 that recognizes the historic significance of old buildings and educational programs such as workshops on the tax credit program and walking tours of downtown and its historic buildings for third-graders.
The group's annual house tour, offered during the North Carolina Azalea Festival each spring, has been in existence twenty-two years.
The foundation also restarted an architectural salvage operation last fall that has been enthusiastically received by the community. The LEGACY ARCHITECTURAL SALVAGE store (left), at 1831-B Dawson Street, houses items circa-1966 and older for customers to peruse on Saturdays from 9 a.m. to 1 p.m. Organizers have held workshops ranging from making pallet planters to window repair at the facility, which last month made a cameo in the HGTV show Hunting Vintage.
Also in the Port City, THE NATIONAL SOCIETY OF THE COLONIAL DAMES OF THE AMERICA in the State of North Carolina saved the Burgwin-Wright House (contributed photo below) on the corner of Third and Market streets – one of four colonial structures left in Wilmington – from being replaced by a gas station or sent on a barge up to Connecticut. The 1770 house was later restored. Director JOY ALLEN says maintaining the house is a continuing effort – preservation in perpetuity.
The National Society of the Colonial Dames of America, of which the NSCDA-NC is a part, is 125 years old; the NC Society is in its 122st year. The NC Dames had saved three houses before the Preservation Act of 1966. The NC Dames has a threefold mission: historic preservation, education, and patriotic service. With regard to historic preservation, it owns four historic properties in the state and has saved and financially supported others.
The Hodges say they apply for the tax credits every time they undertake a restoration. Sometimes, however, they don't take advantage of the credits, instead selling the house to fund their next project.
They're currently working on a house at 617 Red Cross Street, at the tip of the city's historic district. It had been abandoned, and Adrienne Hodges says they have already uncovered three brick fireplaces and original craftsmanship under drywall. They have begun to bring the house back to life.
Other projects with which they are or were involved include a house on North Seventh Street the city was going to condemn. They rehabbed it and sold it in February. They renovated a set of houses they've nicknamed "The Twins," two little, shotgun houses that butt up against Fourth Street. They had renovated and hoped to live in a house on North Sixth Street but decided to sell; it's currently under contract because "we have a whole lot of houses that we want to purchase."
She says often people don't understand how costly it can be to do a high-quality restoration of an old house, adding, "No one wants to take on the projects we take on."
But they love the work and the results.
"I would want to hold on to every single house if we could," Adrienne Hodges says of their completed projects.
To view more of photographer Katherine Clark's work, go to www.katherineclarkphotography.com.