Runaway Market
Area women tap into the running world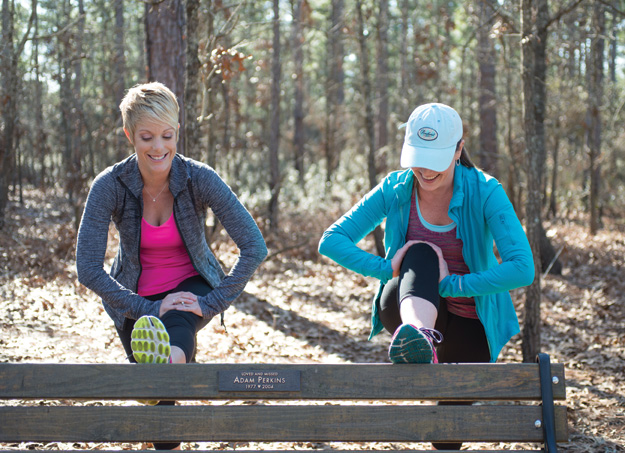 It's the peaceful calm of an open road, the company of good friends, and the exhilaration of beating your own personal records. Whatever the draw is for you,
running has taken off as a hot sport for Wilmington women.
To keep pace with this growing sport, Wilmington is now home to several companies providing everything from running coaching to race management to running apparel.
Go Time
GO TIME is a full-service race management company helping primarily nonprofit organizations facilitate races in the Wilmington area and beyond. Go Time handles race timing, marketing, and consulting for the events.
As owner (along with her husband COLIN) and production manager of Go Time, MICHELLE HACKMAN manages operations, including supervising staff, event planning, marketing, client relations, and financial management.
On their first date, Colin, an avid runner since he was a student at Hoggard High School, took Michelle running. At the time, she could barely run a while, but she says she eventually fell in love with the sport.
"I feel at peace when I run," she explains. "It's the one time each day when I get to focus on me, no stress, no work, no emails, and no kids."
Go Time began in May 2011 with the bare bones – three people, a tent, a finish-line arch, and a few computers – and now it has the equipment capability to time three races simultaneously. What was once their side job on the weekends is now a full-time endeavor for both Hackmans, and the company has grown to include an additional full-time employee, six part-time employees, and two interns.
"Go Time is really the marriage of Colin's love for running and my love for event planning," Michelle says.
Without Limits
WITHOUT LIMITS provides running and triathlon coaching for youth and adults ranging from beginner to highly competitive athlete. Additionally, it offers a brand of athletic apparel sold online, in select stores, and through race events.
A personal trainer and competitive athlete, TOM CLIFFORD started the company in 2006 in response to local interest for running technique, stamina, and performance coaching.
As the company grew, Clifford's wife, ANNETTE, eventually left her full-time job with Wilmington Health's HMR Weight Management Program to become the administrative director of Without Limits.
In this role, Annette handles the client relations, operations management, and financial responsibilities, and Tom is able to focus on the part of the business he loves most: coaching.
Annette enjoys being part of a company that not only encourages health and wellness but inspires people to reach personal and athletic goals.
"I find myself continually uplifted by the amazing accomplishments of the Endurance Team. I have seen people run their first 5K, finish marathons and Ironmans, and have huge smiles because the doctor just gave someone a drastically improved health report," she says.
Fleet Feet
In November, MICHELLE FOGLE opened FLEET FEET SPORTS, a retail store offering running and walking shoes, resources, and athletic apparel in The Forum shopping center.
Fleet Feet's mission is to create a culture of "happy and healthy feet," enabling customers to stay comfortable and injury-free while remaining active, Fogle says. To build a successful store
in a new market, Fogle is drawing upon her background in pro sports marketing as well as her MBA and master's in sports administration.
Feet Fleet offers a ten-week couch-to-5K training program called No Boundaries. Fogle notes that while information on how to train is readily available online, the program offers the accountability and social aspect of training with a group, which tends to attract women. Fleet Feet plans to expand the program to include half and full marathon training in the future.
Fleet Feet sponsors two weekly runs to bring runners and walkers from the community together. Every Wednesday at 6 p.m., it hosts a three- to four-mile run/walk from Bombers Beverage Co. that treks through downtown and ends with a post-run beer (or two). On Thursday nights, the Pub Run starts from the store and follows a course of two, three, or four miles, and then ends with a drink or dinner at a business in The Forum.
Chasing a Personal Best
Not surprisingly, the ladies behind these running-related companies regularly run themselves. Hackman is currently running about five days a week to train for the Quintiles Wrightsville Beach Half Marathon this month, which will be her first half.
"You don't have to be fast," she emphasizes. "You can start at any pace, even if you are running and walking. Once you get into the running lifestyle, you get addicted to it."
Clifford, who was a competitive swimmer from the age of five through college, started running about three years ago. She now runs about five days a week, and she especially enjoys running, racing, and training with the 180 Endurance Team members.
"It is very similar to my high school and college swimming experience, and I really appreciate having a group to be part of again," she adds.
Fogle, who was a college athlete, has run races of all lengths, from a 5K to a 50K, and six half marathons and five full marathons. Fogle enjoys the competition of running races as well as the camaraderie of running with other people, and she appreciates the active culture and warm climate of her new home.
"This is the first place I've lived where it is not hard to find people to run with," she says.
To view more of photographer Katherine Clark's work, go to www.katherineclarkphotography.com.