Rooted in Responsibility
Lauren Farraher brings environmentally sustainable self-care at Sage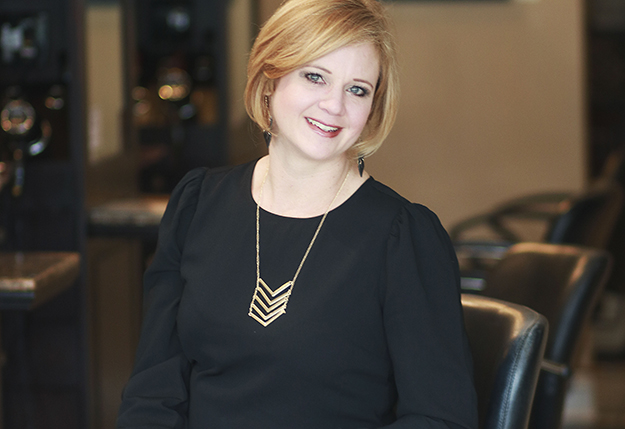 In 2010, LAUREN FARRAHER, a master colorist and stylist, decided to open SAGE SALON & SPA, abandoning parabens and creating a place where clients could achieve the same results with a low cost to the environment.
Farraher moved from New York to Wilmington in 2007 to pursue a master's degree in English at University of North Carolina Wilmington.
"I always did hair," she says. "I decided the best way for me to acclimate myself to a new area was to start doing hair and be able to meet people."
Her clientele grew steadily over the next year, and her aspirations began to change. Farraher continued her education in hair and skin care, eventually achieving the status of master colorist within four different color companies and master stylist within two others. She allocated her funds toward opening a business instead of getting a master's degree, went to the Small Business Center at Cape Fear Community College for advice, and began to plan.
"I started thinking more about how I wanted to run my business," Farraher says. "I'm more of a green, eco-friendly person in life, so I decided to add an eco-friendly aspect to my business."
Sage, at 7110 Wrightsville Avenue, is certified as a green salon through the Green Business League. Nature saturates every part of the salon. Each room in the spa represents one of the four natural elements: earth, air, fire, and water. No harsh chemical smells permeate the salon. Products and services are environmentally responsible, and recycling is a priority.
But, it's not just the nature that makes Sage special. There's plenty of nurture to go around, too. Witty banter and laughter are as much a staple of the business as its sustainable practices.
"People notice when they come to Sage that we'll talk to everybody," Farraher says. "It's a great atmosphere. We all love each other, and we love our clients. Sage is kind of like the Cheers bar – you come in, everybody knows your name, and you hang out."
Farraher's love for responsible beauty extends beyond the walls of Sage, however. Her studies have taken her to from Manhattan to Europe, Puerto Rico to the West Coast. She is an artistic educator for Pravana, a hair color and products company, and a platform artist at major hair shows, which gives her the opportunity to share her passion, mission, and expertise with other stylists. She has also achieved the status of master sugarist (a method of hair removal) and skin care specialist.
"I do what I do because I love it," Farraher says. "I'm creative and enjoy creating, but at the end of the day, the most important and most satisfying part of my job is making people feel good about themselves and smile."
Take 5 with Lauren Farraher
What ignited your passion for hair and skin care?
"It has been such a long time since I entered this industry, I don't recall what ignited my passion for it. What I can tell you about are the passions that have kept and continue to keep me in this industry. The beauty industry is forever changing. Styles, trends, equipment, and techniques are constantly upgrading and evolving, which appeals to my zeal for learning."
Describe what it means to practice "responsible beauty."
"Responsible beauty considers the health and well-being of ourselves, our clients, and Mother Nature while maintaining exceptional results. None of our products are chemical laden, so you do not have the typical salon 'scent.' Our products are all natural, vegan, and organic."
What gives you the most joy while you're working in the salon?
"The atmosphere. Sage fosters an energetic, artistic, and welcoming atmosphere. We are like the Cheers of salons; when you walk in, everybody knows your name. Our longtime clients are considered family, and everyone is welcomed as a friend."
Any advice to those ready to make a big change ot their look but nervous to do it?
"Consult with your stylist. We are trained to enhance face shape and complexion, while suiting your lifestyle needs. It is important to have open and honest communication regarding what you want, how much time daily you are looking to invest, and the maintenance level for the new look. Bring pictures of your new style, and through discussion, the style can be customized to your lifestyle, look, and comfort level."
What are your top three favorite hair moments in the history of style?
"I tend to lean more towards vintage retro styles of the '20s, '50s, and '60s. The attention to detail and texture portrayed through pin-up styles is unlike any other and couples a sense of romanticism with independence."
To view more of photographer Terah Wilson's work, go to terahwilson.com.
Want more WILMA? Sign up for our WILMA Weekly email and announcements at WILMAOnTheWeb.com.