Resident Feature: Meet Tom & Bonnie Burrell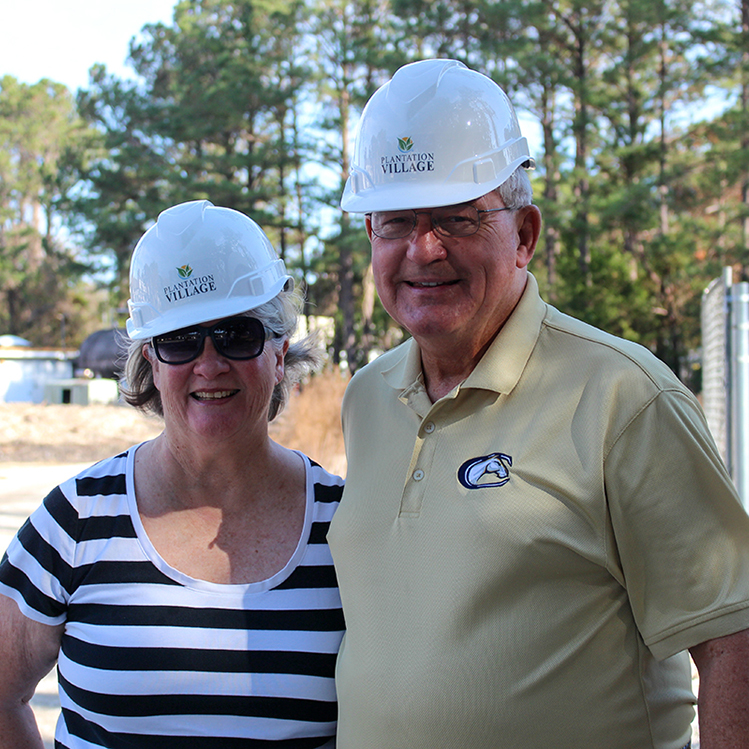 To put it simply, Tom and Bonnie Burrell are planners and preparers. They met in grade school and have been married for 50 years. Tom graduated from West Point Academy, spent 22 years in the Army and then worked for a consulting firm for 23 years. Bonnie taught elementary school before staying home with her children; she then returned to work as a Department of the Army Civilian for 25 years.
The Burrells spent 10 years researching CCRCs before deciding to call Plantation Village home. They visited communities all over the east coast, looking for a place with an engaging and vibrant environment with a high level of service for cost in a prime location. "You can wait too long, but you can't move in too early," Tom said.
The Burrells moved to Plantation Village in May 2021 after living in Northern Virginia for 33 years. They are living in a villa home while waiting on their brand new village flat to be completed as part of our expansion. Tom and Bonnie immediately found activities and opportunities for engagement they could enjoy together as well as individually. Tom is involved in the Men's Coffee group, the PV Civic Affairs Committee, Strategic Planning Committee and he participates in regular exercise classes.
Bonnie has fallen in love with circuit training classes. She helped start another book club at PV (there are several!) and is active in our women's group called "Women on the Move." The Burrells wanted to connect with their new neighbors and so they began a weekly gathering they dubbed "Villa Vino." They gather to share wine, community news and fun. They wanted resort-style living with a relaxed lifestyle and they found it. PV offers a "maintenance-free lifestyle" by taking care of the upkeep and cleaning of both the inside and the outside of the homes. They say these services are proving even better than expected.
Bonnie calls Tom "Mr. Fix It" but at Plantation Village, he has an entire team of associates to depend on. Bonnie and Tom now have the freedom to not have to take care of things themselves – and they love it!
Bonnie says to live well is to maintain a level of freedom to do what she wants to do. As they age, they believe that living well will lead to aging well.
At Plantation Village, the Burrells have found the freedom to define their own future – and to know them is to know that they are living well!
---
Anna Cook is Marketing Coordinator at Plantation Village, a non-profit continuing care retirement community that offers independent living on a 56-acre campus in Porters Neck, minutes from downtown Wilmington and area beaches.