Renaissance Dude
Surfing the waves with Sean Herman.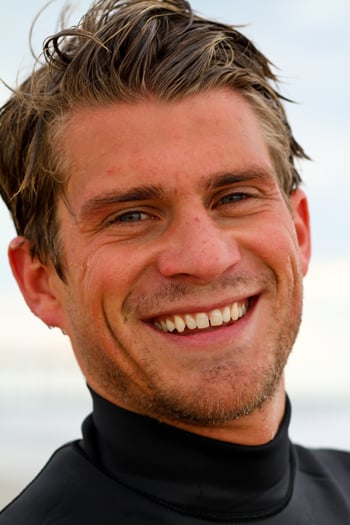 SEAN HERMAN needs more hours in the day to accomplish everything he wants to do.  He's a surfer, actor, model, inventor, musician and writer – sometimes all before lunch.   WILMA caught up with him before a surf session at the south end of Wrightsville Beach and picked his brain to find out how he gets so much done.
"My mind never stops working and I'm always into creating things. I'm also not very patient, so when I have an idea I put 110 percent effort into it and I'm not going to stop until someone notices and hears it. I'm making my own luck, I guess, you could say," he said.
W: You have a lot of interests and ideas. What are your biggest projects right now?
SH: I need to simplify my life right now so, I'm focusing on The Neighbors and my surfing.
W: Tell us about The Neighbors.
SH: It's a comedy series that I'm producing on my website www.coffeewithtoast.com.  I'm obsessed with coffee, by the way. I write, direct, edit, film and act in it with the help of a small crew. I play Jimmy Wilson, the main character. It's about a neighborhood of outcasts and how they butt heads with each other.
W:  Other than the south end, where's your favorite spot for surfing?
SH:  I really liked Australia. I surfed up on the Gold Coast. The place is really happening, the waves are amazing and it's such a positive environment.
W: What's something new in town you've done recently?
SH: Well, it wasn't really new, but we threw a party for the fifth episode of Neighbors and a lot of really crazy things happened.
W: Can you summarize it into one family-friendly sentence?
SH: A man jumped a baby pool with a moped.
W: Okay…
SH: And the ramp was on fire when it happened.
W: Where do you like to go out in town?
SH: If I were to go out, I'd go to Yosake – I love sushi – then to The Fortunate Glass next door for wine and over to The Blue Post to shoot pool.
W: If you were stranded on an island, what would be your three essentials?
SH: A Keurig coffeemaker, lots of water and a surfing female chef with a lot of food.