Reimagining the T-Shirt
Sarah Newton helps navigate 13th and Mars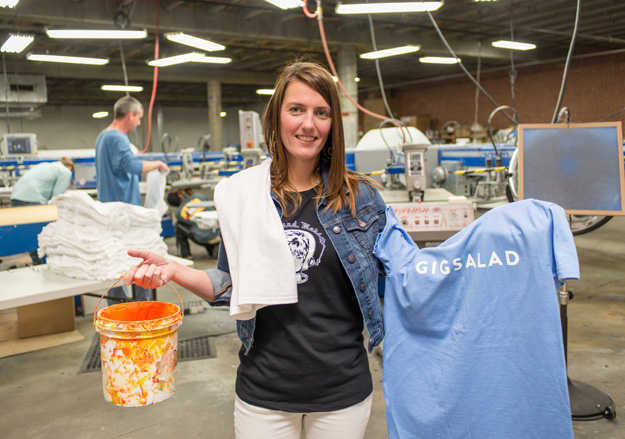 When SARAH NEWTON talks about 13th AND MARS, a Wilmington custom printing company with a twist, she lights up.
"We help our users raise money without having to take on any investment – sort of like Kickstarter but for T-shirts," she says. "It's great for sports teams, special events, nonprofit groups, artists, bands. You design the shirt and promote the project, and we take care of the rest."
13th and Mars (located on the corner of 13th and Marstellar streets – hence the name) is an offshoot of its sister company Queensboro, which specializes in embroidered apparel. Newton had been with Queensboro for eight years when the company decided to add custom printing to its list of services, and she was full of ideas.
She loved the concept of crowdfunding and giving control to customers, especially after seeing the success of other sites, such as Kickstarter and Indigogo.
"I couldn't keep my mouth shut," she laughs.
When it came time to launch 13th and Mars, Newton's enthusiasm earned her a new title: co-vice president, also known as "Mission Commander."
When exactly does the Mission Commander of 13th and Mars do? "User experience, website orders, design, social media," Newton says. "We're a startup run by a small team, so I end up doing a little of everything."
Launching a business requires energy and enthusiasm. Luckily, Newton has plenty of both. A native of Morehead City, she attended the Miami International University of Art & Design, where she studied fashion design.
"I'd always been interested in fashion," Newton says, "and I've always had a lot of creative energy. I needed an outlet and wanted to try something different, so that seemed like a natural fit."
After graduation, Newton realized she missed the comfort of a tight-knit, smaller community and accepted a job as a sales manager in Wilmington's Dillard's store. When a position at Queensboro opened up a few years later, Newton jumped at the chance to work in its merchandising department, where she specialized in purchasing and product development. Now that she's making her mark on Wilmington with 13th and Mars, which does all its production on-site, she couldn't be more excited.
When she's not in the 13th and Mars office, Newton can be found listening to music at Bourgie Nights, taking advantage of the burgeoning local brewery scene, or enjoying a dinner out. Her love for fashion and textiles also extends to one of her other hobbies, jewelry making. She recently made a set of wedding rings for friends, which she considered a huge honor.
Newton sees 13th and Mars as part of marketing's future, which she believes will depend on mass personalization and consumer engagement. Newton says she hopes the company eventually will expand beyond T-shirts to other accessories, and she's interested in experimenting with 3-D printing. For now, she's happy to help guide 13th and Mars to the stars and beyond.
To view more of photographer Katherine Clark's work, go to http://www.katherineclarkphotography.com