Raising the Barre
USIB's bold new plan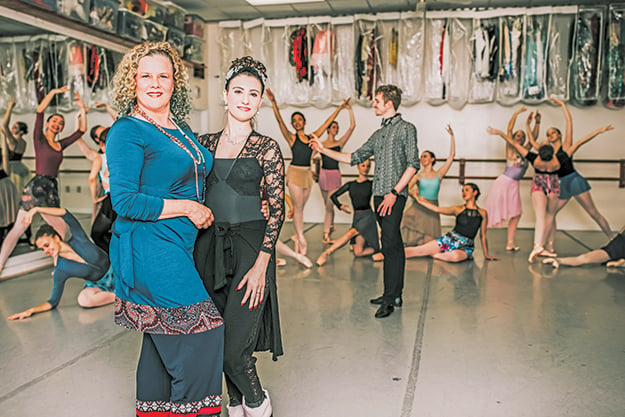 Wilmington is known for its beautiful beaches, laidback lifestyle, and friendly folks. But, ballet? Not as much.
However, with the advent of Wilmington's first professional ballet company, U.S. INTERNATIONAL BALLET, that might change. The fledgling company, now in its second season, aims to break ballet stereotypes and expand the art form's appeal while potentially raising Wilmington's dance profile.
"We're going to bring ballet into the 21st century all around the world," says ELIZABETH HESTER, the company's founder and executive director. "Wilmington is going to be a household name in the world of ballet."
Hester is also the owner and founder of the Wilmington School of Ballet and its performing and community involvement arm, the Wilmington Ballet Company. U.S. International Ballet (USIB), while affiliated with those organizations, is its own entity, she says.
Though USIB will include the Wilmington Ballet Company's students in some performances, in others, the cast will be made up of only of USIB's professional dancers.
To make her newest dream a reality, Hester advertised in international magazines. Her call was answered by INES ALBERTINI and her husband, WALTER ANGELINI. The couple, who are from Milan, have danced around the world.
Albertini danced with the Zurich Ballet and Angelini with the Teatro alla Scala in Milan and Theater Basel. The two of them have performed with the Atlantic City Ballet, First State Street Theatre in Delaware, Dance Alive National Ballet in Florida, and Dance Theatre of Tennessee.
Albertini and Angelini found that they shared Hester's vision via a long-distance interview. Knowing the job would be challenging did nothing to quell the couple's enthusiasm. They signed on as USIB's artistic directors and choreographers, moved to Wilmington, and got to work.
In the year they've been here, Albertini and Angelini have fallen in love with the Port City and see no reason why Wilmington can't take center stage in the dance world.
"Wilmington is a beautiful city," Albertini says. "People will want to come here."
Albertini and Angelini are working nonstop to ensure USIB is successful and embodies the goals and values they and Hester set. They've already met their first goal: ensuring the company exemplifies diversity – a change in the ballet world that benefits the dancers as well as audiences, according to USIB's directors.
The company has thirty dancers who hail from five countries. Also, the dancers have studied a variety of ballet styles, which gives them more opportunities to improve, Albertini says.
"There are different ways to get the same effect," she says. "What is very important is to bring the best of each different technique. If you are closed to different techniques, you can't improve."
The company's dancers have different body types. Some are muscular, some are lean, some are short, some are tall. But, all of USIB's dancers are healthy, strong, and talented; and they bring their love of ballet to their work and their audiences. This not only makes the company more interesting to watch, but it is also more real, Hester says.
"In entertaining and moving people artistically, passion and talent and emotions come in all body types," says Elizabeth Huster, the company's founder and executive director. "I believe today's audiences want to see genuineness. They want to be moved emotionally, they want to be moved visually. Ballet can be super entertaining. That does not depend on having one specific body type."
Albertini and Angelini are also making inroads on another of their objectives: attracting new audiences. With their innovative choreography, young people and those not versed in the art form are finding ballet is something they want to see, according to Hester.
"They (Albertini and Angelini) take the best of ballet and modern technique and take things that are interesting like a flapper dance or Russian dance or a Chinese fan dance and put them in an interesting form the audience is fascinated with," Hester says.
This November, Cape Fear audiences got a taste of the artistic directors' new choreography with Vampires, the couples' debut full-length ballet. The work fused classical ballet and modern dance with digital art and film as well as a mix of musical styles to create a unique, eclectic ballet.
For Albertini and Angelini, Vampires is just the prologue for professional ballet in Wilmington. This spring, they will restage some well-loved classics. USIB, with students from the Wilmington School of Ballet, will perform Alice in Wonderland and A Midsummer Night's Dream. In those works, traditional balletophiles will see their favorite variations and newer audiences will enjoy the new twists they will add, according to Albertini.
"Ballet is a beautiful art, and we need to involve everyone," she says.
Next year, in addition to performances here in Wilmington, the company will take Vampires to theaters throughout the state.
"Now is the time," Albertini says, "to grow as much as we can to bring ballet to the people."
To view more of photographer TJ Drechsel's work, go to tjdrechselphotography.com.
Want more WILMA? Click here to sign up for our WILMA newsletters and announcements.