Quiet Benefactor
Campbell-Morin has funded St. Mary student scholarship for years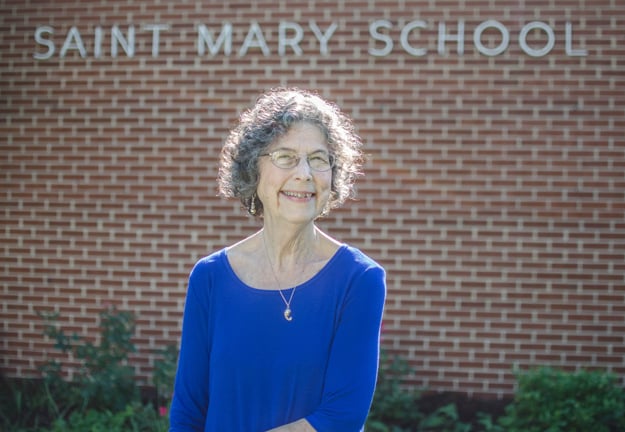 Since 2002, one woman's quiet, continued anonymous contributions to a fund has provided thousands of dollars in scholarships to children in single parent or African-American and Latino families who wish to attend ST. MARY CATHOLIC SCHOOL downtown.
Though the fund was secretly in honor of her late husband, Ted Campbell, and their family's commitment to education, ANN CAMPBELL-MORIN named the fund the Joshua 1:9 Fund to capture the spirit behind her family's generosity.
But her identity remained secret – until today.
Campbell-Morin's initial $25,000 investment more than a decade ago has grown to more than $188,000. At the dinner table, she smooths out a recent financial statement from the New Hanover County Community Foundation, the guardians of the fund. Each year, she simply took the dividends from the fund's investment and reinvested them.
The fund provides about $7,000 in full or partial scholarships to families at the school annually, Campbell-Morin says.
"No one else has given because I never publicized it," Campbell-Morin says. She thought telling her story now might encourage more people to give to the fund.
"Sometimes people don't know where to put their money, but this is an opportunity to help someone who is in need."
The reason for Campbell-Morin's silence all these years has much to do with her personal humility. Campbell-Morin is an exceedingly private person. Many days, she enjoys sitting on her screened back porch, gazing into the deep foliage behind their home and listening to the birds. She might throw a peanut or two to the squirrels who know her well enough to approach her back door and wait for the treat.
But the gift to St. Mary Catholic School was a way to honor her late husband and their similar life stories.
Growing up in Cleveland, Campbell-Morin's mother married a Jewish man, meeting heavy disapproval from her large Catholic family.
"Families did like that back then because it was a scandal. I lived in the same town, but I didn't know my cousins," she says.
But after her father died early in Campbell-Morin's life, her mother's family provided for her and her sister's education in Catholic schools. Later, Campbell-Morin became a teacher in the public schools of Pelham, New York, ironically her first experience in state schools.
Her husband's father also died in an accident early in his lifetime. He attended Catholic schools in Brooklyn, with their family's help and eventually taught in public schools, too.
Together, they both had more than twenty years in Catholic education.
"I thought of naming this fund after him, but I chose the name from scripture instead," Campbell-Morin says. It was more private that way. "I always felt Joshua 1:9 ("Be firm, be steadfast! Do not fear nor be dismayed,
for the Lord, your God,
is with you wherever you go.") gave strength to me and it would to anybody who reads it and believes it.
"We had a strong commitment to give back to those who, in guiding and educating us had played such a very major role in who we had come to be. To both of us, the education and guidance we received in the Catholic schools was very special because only with the help of others could it have happened," she says.
Each year, Joyce Price, principal at St. Mary Catholic School, sends anonymous reports to Campbell-Morin about the children benefitting from her generosity.
"Regarding our tuition assistance, the first thing that comes to mind is the year my son was helped by an anonymous donor," one parent wrote. "I still say a prayer of gratitude each day and ask for loving protection of those that helped. I also pray for the ability to someday 'pay it forward.' I would not have been able to send my son to St. Mary School if not for the generosity of so many."
For more information about how to contribute to the fund, contact Price at 762-5491or principal@thestmaryparish.org.