Precious Mettle
Jewelry designer Kristin Wood returns to the studio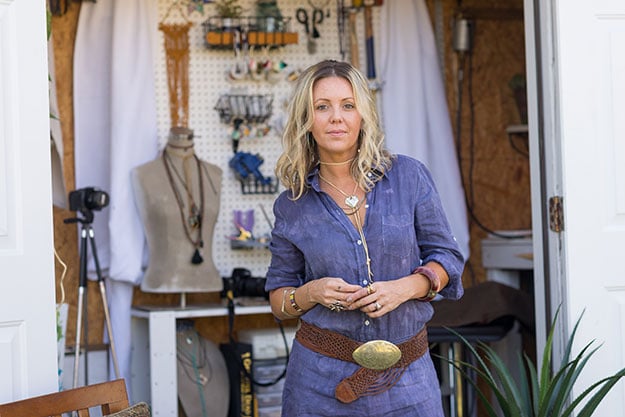 KRISTIN WOOD's big break came when pieces from her brand, KOPIOUS JEWELRY, were featured on the twelfth season of Project Runway several years ago. Her passion for fashion, however, goes back much further than that.
"My father was a documentary filmmaker who traveled the world," she says.
No matter where he went, he always returned with jewelry.
"He brought back more adornments than I've ever seen in my life. That's what really sparked my interest."
When she was 19, Wood took her own solo journey to Costa Rica. She took photographs as she traveled and, like her father, was drawn to jewelry.
"It was the accessorizing that made the image interesting to me," she says. "I found myself collecting an immense amount of jewelry from the local women, who used those earnings to support themselves and their family. I knew my purchase was helping another woman, another provider."
It wasn't long before Wood went from being a collector to becoming a creator.
In 2010, Wood started a small fashion brand. In 2012, after teaching herself to hammer and form metal, she began focusing strictly on jewelry. Soon, Island Passage offered her the opportunity to create a private collection for the store, which Wood found exciting.
"Because of that success, I went on to Charleston Fashion Week and launched my brand more publicly," she says.
Kopious, Wood's signature brand, revolves around her desire ­to create an abundance of looks using several styles that can pair together and includes everything from hand-hammered hoop earrings to large statement necklaces with hand-formed metal.
In 2014, she took a casting class, where she learned how to take sketches and transform them into three-dimensional pieces from a block of jewelers wax.
"It made sense to me," she explains, "because the piece you make evolves by chipping away at that block."
This method fit her design philosophy, which is to let the jewelry take on a life of its own, and her brand began to move in that direction.
It's a shift she's excited about, especially as she returns from the sabbatical she took when her daughter was born nearly two years ago. "In casting," she says, "I've found the skill I want to perfect."
Jewelry design comes with a unique set of challenges.
"It's an expensive form," says jewelry designer Kristin Wood. "I'm a perfectionist, so I don't skimp on the materials I use."
Time, too, is a challenge, especially as a new mother returning to her art.
"My daughter's room is my old studio, and my workspace now is much smaller, in a different part of the home," Wood says. "Now, the challenge is to make sure that hard work doesn't get sidelined because we as women have the luxury of having children. I can work just as hard at both, and feel as though I'm a successful woman regardless of economic success."
Wood has already been given a warm welcome back. Her work can currently be viewed at New Elements Gallery, Island Passage, Aqua Fedora, and Tusc Boutique. She'll also be debuting a Spring/Summer 2018 collection this January, both online and at local shows.
For this jewelry designer, the future is being hammered out one piece at a time. It's clear that the finished product will be beautiful.
To view more of photographer Katherine Clark's work, visit katherineclarkphotography.com.