Power of the Pulpit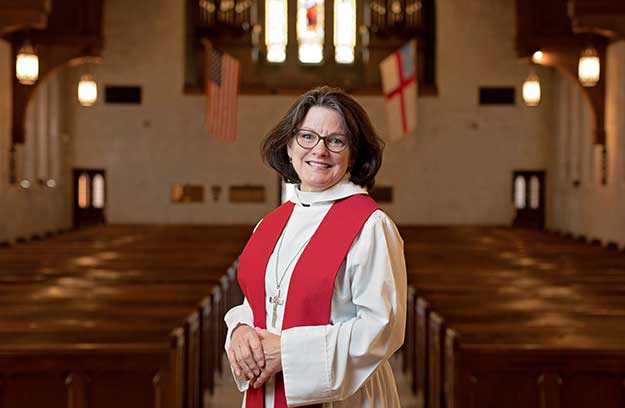 Many women currently hold the role of clergy within a variety of local religious organizations. While some religions have embraced female clergy for decades past, others are new to welcoming them as leaders of congregations.
The REV. DENA WHALEN has served at ST. PAUL'S EPISCOPAL CHURCH on North 16th Street for the past five years and has worked as an ordained minister the past twenty-five years.
While a typical day is busy including pastoral care, outreach, fellowship, and more, Whalen stays passionate about her role.
"When the community is gathered in worship, I always have a sense of joy and gratitude," she adds. "When I'm able to experience the abundance of God's love and provision being experienced by people, I find joy."
Whalen was ordained in Jacksonville, Florida, and served at two churches there. She then served in churches in Greenville, South Carolina, and Atlanta before coming to Wilmington to serve at her fifth church.
She saw a change take place in the mid-1980s when more women sought ordination in the Episcopal Church.
"As a young person, I always had a sense of call to serve within the church," Whalen says. "It wasn't until I started to see women get ordained that I was able to finetune what that meant."
Whalen says she believes that the gender imbalance within the clergy field will eventually balance out.
"The longer competent, confident women are at it, the closer we will come to a balance of male and female roles working together." – the Rev. Dena Whalen, St. Paul's Episcopal Church
Rabbi JULIE KOZLOW, the spiritual leader of B'NAI ISRAEL CONGREGATION in Wilmington, says finding her role came simply.
Kozlow served at a congregation in Greenville, South Carolina, for seven years before moving to Wilmington, where she's been for the past three years. At the time of her move, Kozlow became the first female rabbi in the area.
"When my first child was born about thirty-five years ago, I had a very powerful, spiritual experience," she says. "It took me near two decades from that time to actualize my ordination."
In that timeframe, Kozlow attended the American Jewish University in 2000, earning a bachelor's degree in Judaic studies. She followed that with two master's degrees in rabinnic studies. One was from the Ziegler School of Rabbinic Studies and the other came from the Academy for Jewish Religion California, where she also received ordination in May 2007.
Kozlow finds joy in the deep and profound relationships she's built with people.
"I have the privilege of being with people during the darkest and lightest times of their lives," she says.
Kozlow says she sees women in the clergy as agents of change.
"This is really the first time that women have been allowed to stand up and demand our full authentic self in our lives, so that's a great privilege." – Rabbi Julie Kozlow, B'nai Israel Congregation
The REV. PATRICIA FREEMAN is at ST. PHILLIP AFRICAN METHODIST EPISCOPAL CHURCH, a church with historical ties in the Wilmington area dating back nearly a century.
Freeman, who was appointed in 2013 to lead the congregation, says her caring nature led her to the role.
"I grew up with the desire in my heart wanting to help others," Freeman says. "I watched my parents being great caregivers to grandparents and great aunts and uncles and all the elders in our community."
Rather than sweat the big stuff, Freeman finds joy in the small moments.
"There is always something to laugh about… I like being in the sanctuary where once in awhile during worship service a baby or a little child joins you in the pulpit and steals your thunder. It is all joy in knowing that we all belong and not to take ourselves too seriously." – the Rev. Patricia Freeman, St. Phillip African Methodist Episcopal Church
Freeman speaks of a sense of working toward a greater good, with every day holding different challenges.
"I see people who come to our worship services to become the best versions of themselves," she says. "It is so rewarding to see this knowing that I had a small part to play in that."
BARBARA BELL, pastor of GOSHEN BAPTIST CHURCH in Leland, had a very different career before joining the ministry.
"I was an engineer for 10 years … I just came to the sense that God was calling me to set down my engineer job and to take up vocational." – Barbara Bell, pastor of Goshen Baptist Church
Bell found herself moving to North Carolina when a friend called her with the offer. Bell thought the only job available as a woman in the church would be to work on the church staff or as part of an overseas missionary.
"I hadn't thought about being a pastor. I prayed about it … I said, 'Yes.' I came here just over twenty years ago to be the pastor of this church," she says.
While she says balancing family and home life can be difficult, Bell believes both caring for her family and being a minister are sacred callings.
"Sometimes, people need a reminder that they are not alone in their struggle," she says. "There is someone who always understands, and there is hope at the end of this."
Taking on the burden of members of the congregation's struggles can be hard, she adds.
"But, we get to rejoice in the best of the best – a kid that thought he was failing, a new baby, born – both things kind of balance each other out."
The Rev. CHERYL WALKER, minister of UNITARIAN UNIVERSALIST CONGREGATION OF WILMINGTON, felt a call to ministry after a career on Wall Street when she started volunteering with a homeless shelter as part of her home congregation.
Walker says she embraces growing the pool of female clergy as she comes from a congregation that supports women's rights.
"I am fortunate to be in a faith community – Unitarian Universalism – where over half of the clergy are women so people are accustomed to seeing women as ministers," Walker says.
While new doors have opened allowing women into the clergy field, obstacles still remain, she says.
"Our authority in the church is more often questioned because we are women," Walker says. "My hope is that we will, as a society, see women and men as equals in all professions."
To view more of photographer Michael Cline Spencer's work, go to michaelclinephoto.com.
Want more WILMA? Sign up for our WILMA Weekly email and announcements at WILMAOnTheWeb.com.