Picked Fresh
Ideas for healthy cooking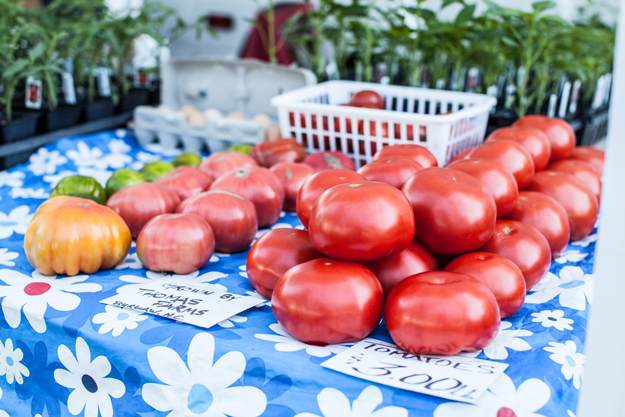 Armed with $25, Rx sous chef Erin Wiley hit the farmers market to collect produce providing the basis for several nutritious recipes that are easy to replicate at home.
Goat Cheese, Spring Onion, and Heirloom Tomato Tart (Serves 6)
Ingredients
1 pie crust, pre-baked (see below)
3-4 large heirloom tomatoes, sliced into ½-inch thick slices, deseeded
6 ounces goat cheese, room temperature
2 garlic cloves, minced,
6-8 sprigs of fresh thyme,
plus 1 teaspoon, chopped
3 tablespoons chopped parsley
1 teaspoon chopped basil
½ teaspoon chopped tarragon
½ teaspoon chopped oregano
1 spring onion or garlic onion, roasted and chopped
3 tablespoons olive oil
Place foil on cookie sheet and spray with non-stick spray.
Slice onion lengthwise, discarding the green parts.
Place onion and deseeded tomatoes on tray, season with salt pepper and olive oil. Add sprigs of thyme and chopped garlic over the tomatoes. Roast at 400 degrees 40-50 minutes or until tomatoes have concentrated and onion has colored.
In a mixing bowl, combine goat cheese, all chopped herbs, and chopped, roasted onion. Season with salt and pepper.
Take half of the goat cheese and spread evenly onto bottom of prebaked pie crust. Place roasted tomatoes on top and sprinkle remaining goat cheese on top to cover. Rebake at 400 degrees for 5-10 minutes or until cheese has melted.
Serve warm or at room temperature with a side salad.
Pie Dough (Yields 1 crust)
Ingredients
1 1⁄3 cup flour, plus extra for dusting
½ cup (1 stick) cold, unsalted butter, lard, or shortening cut into small pieces
½ teaspoon salt
¼ cup ice water, more as needed
Stir together flour and salt. Cut fat into flour until it's the size of small pecan pieces.
Make a well in the middle and add water. Mix until blended.
Place on floured surface and hand knead until combined.
Roll out to 1⁄8-inch thick and place on pie pan. Tuck the overhanging edges.
Poke bottom and sides of pie crust with a fork, prebake at 400 degrees for 10-12 min.
Turnip, Rutabaga, and Potato Gratin with Greens (Serves 8)
Ingredients
2 cups whipping cream
1 cup chicken stock
2 large turnips, greens reserved, peeled
2 large rutabagas, greens reserved, peeled
1 large russet potato
1 ½ tablespoons chopped fresh thyme
2 large shallots, sliced into thin rounds
1 clove minced garlic
1 teaspoon chili flake
¼ teaspoon fresh grated nutmeg
salt and pepper
Remove greens from turnips and rutabagas, set aside. Slice vegetables into thin 1⁄6-inch slices. Set aside. Wash and derib greens, pat dry, and rough chop.
In a saucepan, sauté garlic and shallot in 1 tablespoon olive oil until translucent (abut 3 minutes).
Add cream, herbs, stock, washed greens, 2 teaspoon salt and 1 teaspoon black pepper.
Simmer on low for 12 minutes or until mixture coats the back of a spoon.
Arrange vegetables in a 13x9x2 glass baking dish or whatever you have, overlapping slightly, and rotating layers. Lightly season every other layer with salt and pepper.
Pour warm cream mixture over vegetables, and bake at 375 degrees for about 45 minutes or until vegetables are tender when poked with a knife. Cool slightly and serve.
Warm Kale Slaw with Farm Egg, Raisins, Pecans, and Bacon Vinaigrette (Serves 4)
Ingredients
1 bunch curly or lacinato kale, washed and deribbed
4 farm eggs, poached
1 cup toasted pecans
6 slices bacon, diced
½ cup raisins
1 shallot, minced
½ cup plus 2 tablespoons red wine vinegar
Half a lemon, zested
salt and pepper
Derib and wash kale, pat dry. Slice into ½-inch slices.
In a large pot, cook bacon until almost crispy, about 10 minutes.
When bacon is almost crispy, add chopped shallot and raisins. Continue sautéing until shallot is translucent and raisins have begun to plump.
Add vinegar off heat and stir. Season with salt and pepper.
Return to heat and add kale into pot.
Toss kale until coated with vinaigrette and slightly wilted. Remove from heat and reseason with salt and pepper.
Place salad on plate, placing one poached egg on top. Season egg with salt and pepper and finish the dish with fresh lemon zest.
For advice about farmers market shopping, click here.