Perfect the Cookie Swap
Baking up holiday exchanges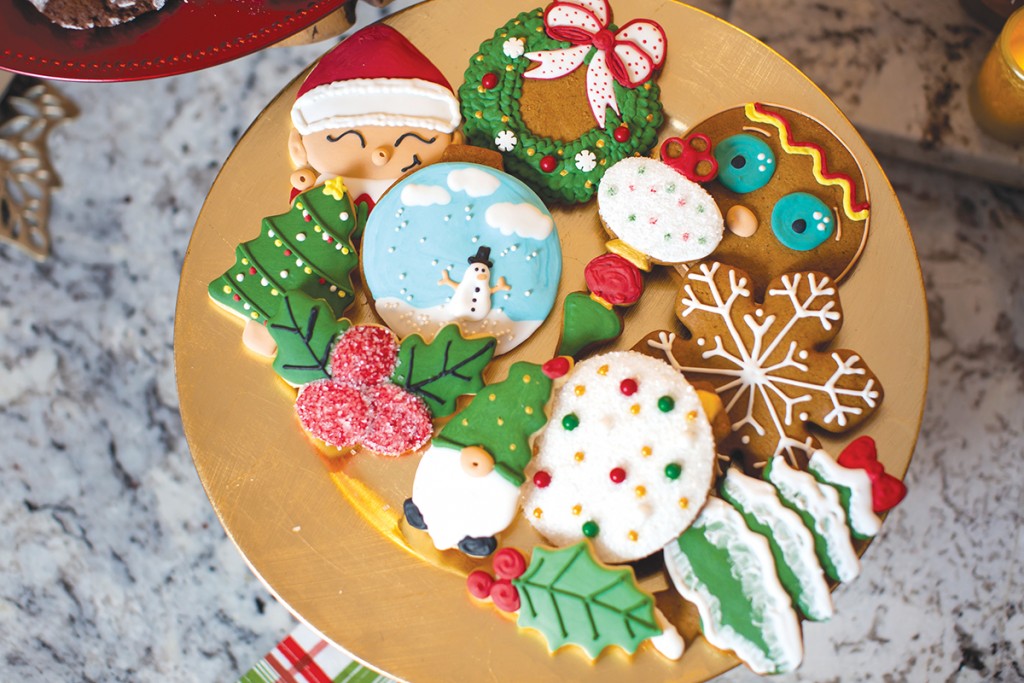 Be a smart cookie and stock up on baked goods while finding the perfect excuse to slow down and catch up with friends during this sometimes hectic holiday season.
Almost any excuse for a party will do during the holiday season, but one of the best is a cookie swap. It is a great way to gather with friends, escape the hustle and bustle, and satisfy everyone's sweet tooth.
The most important thing about a cookie swap is to make it fun and stress-free, recommends HOLLY WHITE, home baker and owner of Stella Blace Bakes. To do so, she says, set an early date, such as the beginning of December, for your cookie swap. Then things aren't too hectic, the cookie swap gets people in a holiday mood, and your guests will have plenty of cookies throughout the season.
White also recommends limiting your guest list to about six people. That way the baking doesn't get burdensome, and your guests will have a variety of cookies to taste and indulge in with friends and family. If you have only two or three guests, she suggests asking them to make a couple of different types of cookies.
Another way to make your cookie swap a success is to set a cookie menu. White, who grew up making gingerbread houses and other tasty cookies from scratch with her grandmother, knows the value of trying different cookies.
By guiding your guests in their cookie choices or assigning them types of cookies to bake, you can avoid six dozen rum balls. Or you can leave it up to chance and see what happens, she says.
Regardless, you'll want to provide a place where your guests can display their cookies. This doesn't have to be fancy, White says.
Setting a long table or several small ones with decorated paper tablecloths, plates, and napkins will do. You'll also want to make the room festive with decorations and holiday music, recommends White.
Activities will add that special something to your cookie swap. Inviting your guests to share their favorite memories of baking their cookies and other family holiday traditions is fun and a great conversation starter, White says.
Other ideas are asking a guest who has a special talent, such as White, who specializes in making decorated cookies, to give a short demonstration or setting up a cookie decorating station where guests can get creative.
Of course, one of the best things about a cookie swap is eating cookies. Coffee, sweet tea, and/or a cheery mixed cocktail all go well. If you're serving alcohol, you'll also want to have some light hors d'oeuvres, fruits, or a vegetable platter, she adds. You can buy paper plates, or you can break out the good china, which is probably underused, for the food.
Finally, provide a way for guests to take recipes, cookies, and directions for freezing them home. Ask your guests to email their recipes to you, then print them out in a booklet or compile them in an email and send it to your guests. Holiday tins from the dollar store and plastic bags stamped with snowflakes make good cookie containers, according to White.
A cookie swap can be as elaborate or as simple as you want. The main thing is to have a good time, White says.
---
Holiday Recipes:
Swirled Sugar Cookies
(Makes about one dozen large cookies)
INGREDIENTS
2¼ cup all-purpose flour
¾ cup granulated sugar
½ teaspoon baking powder
¼ teaspoon salt
1½ sticks unsalted butter, room temperature
Red food coloring
1 large egg
2 teaspoons vanilla extract
2 cups sprinkles
DIRECTIONS
In a medium bowl, whisk together the flour, salt, and baking powder; set aside.

In the bowl of the mixer, fitted with a paddle attachment, cream together the butter and sugar on medium until light and fluffy. Add in the egg and the vanilla and mix until combined.

Add in the flour mixture in three parts mixing in between (low) until just combined. Do not over mix, as that will result in a tough cookie structure. You want the dough to no longer have white streaks of flour.

Remove about half of the dough from the mixing bowl.
Add red (or green, or blue for Hanukkah) food coloring to the remaining dough and mix until the dough is all one color.

Roll each half of the dough between sheets of plastic wrap to ¼-inch thickness individually, trying to maintain a rectangle shape. Place the wrapped doughs on a flat surface such as a cookie sheet and refrigerate for at least 30 minutes.
Unwrap both doughs and stack the white on top of the colored dough, trim excess off. Roll the dough up together tightly to create the spiral, and roll the entire thing in sprinkles.

Refrigerate again for at least an hour, preheat the oven to 350 degrees while you wait.
Slice the roll into ¼-inch cookies and place on parchment-covered cookie sheets.

Bake for 12-15 minutes, turning the trays halfway through. Baking times will vary depending on your oven and how large your cookies are. They are done when they are just barely browning on the edges.
Once removed from the oven, wait 5 minutes before moving to a cooling rack.
---
Triple Chocolate Crackle Cookies
INGREDIENTS
1½ cups light brown sugar

½ cup granulated sugar

1¼ sticks unsalted butter, room temperature

2 teaspoons vanilla extract

1 teaspoon salt

2 teaspoons baking powder

4 large eggs

½ cup cocoa powder

12 ounces semisweet chocolate chips, melted and cooled

2 cups all-purpose flour

12 ounces chocolate chips (not melted)

Powdered sugar, for coating the cookies before baking
DIRECTIONS
Combine sugars, butter, vanilla, salt, and baking powder in a mixer and beat on medium until fluffy. Add in the four eggs and mix until well combined. Sift in the cocoa powder and flour and mix until incorporated. Finally, add in the melted chocolate and chocolate chips and mix on low until mixture looks fully combined.

Cover the bowl and put into the refrigerator for an hour. Preheat the oven to 350 degrees during this step.

Scoop out a couple of tablespoons at a time and roll into a ball. Drop the ball into a bowl filled with powdered sugar and roll around until fully coated. Place balls onto a cookie sheet 2 inches apart.

Bake 10-12 minutes or until the cookies are cracked on top, but the edges look set.

Let cookies cool 10 minutes before removing to a cooling rack.
---
To view more of photographer Madeline Gray's work, go to madelinegrayphoto.com.
Want more WILMA? Click here to sign up for our WILMA newsletters and announcements.