Paper Purveyors
The very technology that has depersonalized human communications (emoticons not withstanding) has served to move one local business into an even more personalized business model.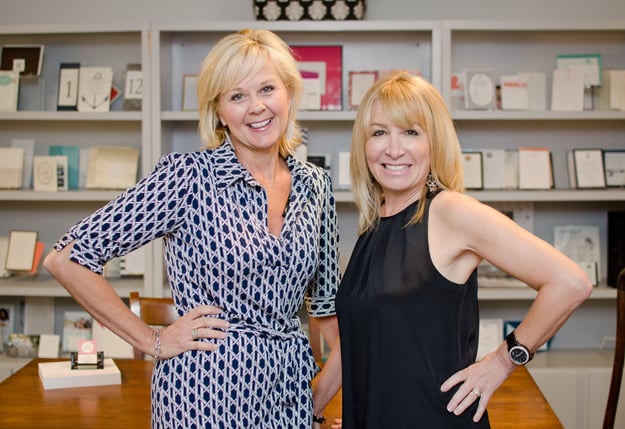 Invitation and stationery retailer MINDY & ANGIE'S FINE PAPER has responded to the slower economy and online competition by embracing the Internet. The owners closed their retail store in late 2013 to focus on appointment-only service to their broad base of customers.
"We felt we had been doing a really good job. We are customer-service oriented, and we provide a good product. People come back tenfold," says Angie Slagle, who with Mindy Agnoff, founded the company in 2001.
The two had met when their daughters were in kindergarten together at Wrightsville Beach Elementary School. Friends for years after that, they began to talk ideas for a creative outlet.
The business started in Agnoff's home and was so successful they soon moved to Lumina Commons.
"There seemed to be a niche in the market in terms of offering invitations," Slagle says.
Thirteen years later, they're seeing customers whose wedding invitations they created come back for baby announcements, shower invitations, and anniversary products.
"It's great. We see a lot of the girls that have gotten married and have had children, or their younger sisters are now getting married. They always remember and tell us we did a great job for them," Slagle says. "We have shifted our focus back to our humble beginnings to do things by appointment."
The business now has a space to meet with customers inside the Dragonflies store on Oleander Drive. Their design studio is off site.
"We had to check our business model when the economy slowed in 2008. People weren't willing to spend (so much) money but still wanted to have a nice wedding or event, and they didn't want to pick up a knickknack at a retail store. It was a huge decision to make that adjustment, but it has worked out beautifully," Slagle says, adding that the additional foot traffic has been beneficial to Dragonflies as well.
It's also allowed Slagle to get creative in the way she designs and creates invitations and announcements.
Self taught in graphic design, she is a chemist by education.
"A lot of people in science are very creative," she says. Slagle has multiple software design programs and often scours the Internet for design ideas.
The primary focus of the business is fine paper products, invitations, and announcements. In addition, it supplies coordinated items.
"If I do a wedding, for example, very rarely are they not going to buy programs and an accessory item like koozies, napkins, and cups," Slagle says.
To create the coordinated look, she works with the customer to develop a concept, possibly a logo or a color wave that carries through the event whether it's a life event such as a wedding or a corporate event such as a fundraiser.
Sometimes a customer will come in with an idea they've found on Etsy. Some artists on the online marketplace will sell the template for their product, allowing the customer to take the design to Slagle for printing.
"I do all the printing myself. The thing I love about this is that I can control the process," she says.
In addition to the quality, she also controls the time, allowing people who plan something last minute to get a quality product in a short turnaround. She keeps a large supply of specialty papers in stock.
"We do digital printing," she says. "The paper type determines the print process. Porous cotton papers require one type; papers with sheens have to be on laser printers but not your Joe average laser printer."
The broad paper selection also allows mixing of colors and paper types.
Along with those personalized products, the business maintains relationships with several vendors that offer their own specialties, such as traditional, engraved letterpress invitations.
"These vendor relationships are important. They support me, and we support them," Slagle says.
Many of her customers order Christmas and other holiday cards through those vendors where they can add photos for personalization.
"It takes the idea of having to have inventory in a store, deletes the inventory, and allows the customer to do everything online," Slagle says.
"I promote their promotions on our social media site. If I know that someone is having a rehearsal dinner, and they're running a promotion, then I'll contact my customer, and we customize and order."
The process may not always be face-to-face, but the end product is always personal.
To view more of photographer Katherine Clark's work, go to www.katherineclarkphotography.com.