Olive & Grapes
Taste the Olive & Vine opens in new digs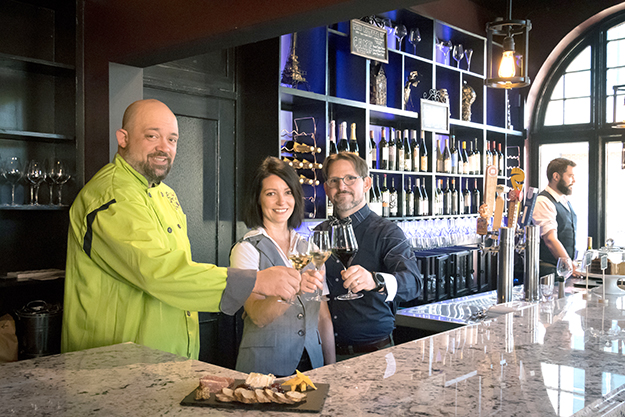 Step into TASTE THE OLIVE & VINE, and you're transported to an elegant, intimate wine bar reminiscent of America's Jazz Age.
Everything from the music to the décor invites you to destress, indulge in a glass – or two or three – of extraordinary wine, and share the company of good friends. And, if you'd like a little something to nibble on, Taste the Olive & Vine provides that, too.
"We have a cozy, relaxed, quiet place where customers can enjoy some wine and not have to shuffle up to the bar," says RANDY HALL, who co-owns the wine bar with his wife, DEEDEE HALL.
Taste the Olive & Vine, which opened in March, has become a favorite watering – and eating – hole for locals as well as folks visiting from New York, Los Angeles, and other cities. Film and TV actors have even been known to spend their downtime at the wine bar.
"When people come here, they fall in love with it," Deedee Hall says. "They love the whole atmosphere."
Taste the Olive & Vine is the fulfillment of the couple's dream of owning their own business. In 2017, they took operational ownership of Taste the Olive at its Landfall Shopping Center location, and DAVID ANDERSEN  joined the team as executive chef and managing partner.
The Halls, however, wanted a different location, and when they came across the distinctive Wallace Building at 25 North Third Street, they knew they'd found the perfect home for their wine bar. Then, the Halls went to work. They redesigned the space. Randy Hall built the bar back, and many of the finishing details are his handiwork.
The Halls, who both have full-time jobs to which they're fully committed, worked evenings and weekends to make Taste the Olive & Vine a reality. They can still be found at the wine bar during many of their off hours today. But, they say, the wine bar is worth every minute.
"What you see is what we envisioned," Deedee Hall says.
Taste the Olive & Vine's engaging atmosphere is surpassed only by its wines. Its collection includes regional wines as well as wines from the major wine-producing regions of the world: Italy, France, Spain, Australia, and Greece, among others. The result is a wide variety of reasonably-priced wines that patrons can enjoy with family and friends, Andersen says.
To ensure customers get a wine they'll like, Taste the Olive & Vine presents wines by style: If a customer wants an aromatic, fruity white wine, staff may recommend a chardonnay, riesling, and sauvignon blanc, knowing that each of the selected wines embodies those qualities.
"We listen to our customers and try to please their palates," Andersen says. "We make it easy for them."
To further add to the mix, Taste the Olive & Vine also offers food and wine pairings.
"We're very interested in bringing our customers that aha moment, that epiphany that happens when you have the right pairing of food and wine," Randy Hall says.
The food menu includes balsamic-infused cheeses, charcuterie boards, and tapas. The tapas are customer favorites that they can't help but share with friends, according to Andersen. These small, inexpensive dishes, which feature the wine bar's specialty olive oils, balsamic vinegars, and rubs, give diners unexpected and fun flavor combinations such as bacon pops, truffle mac n cheese, and dates stuffed with goat cheese.
"The tapas give your palate time to dance around, to try something sweet, something spicy, something savory. Something hot, versus something cold," Andersen says.
Equally popular is Taste the Olive & Vine's balsamic ice creams, which include seasonal flavors such as key lime pie, strawberry basil, and blood orange olive oil with dark chocolate balsamic. Though customers are often skeptical of ice cream made with balsamics, they're won over with their first bite, Andersen says.
"It's so much fun to see the look on their faces as they exclaim, 'Oh my God. This is so good!'" he adds.
Customers can buy the olive oils and balsamic vinegars used in their favorite dishes at Taste the Olive & Vine's retail store. They can also taste any olive oil or balsamic vinegar they're interested in. And, if anyone wants recipes for the tapas, they just need to ask.
Andersen is happy to share.
To view more of photographer Stephanie Savas' work, go to www.stephaniesavasphotography.com.
Want more WILMA? Click here to sign up for our WILMA newsletters and announcements.