Off the Charts
Yvonne Hughes helps connect health providers with patient info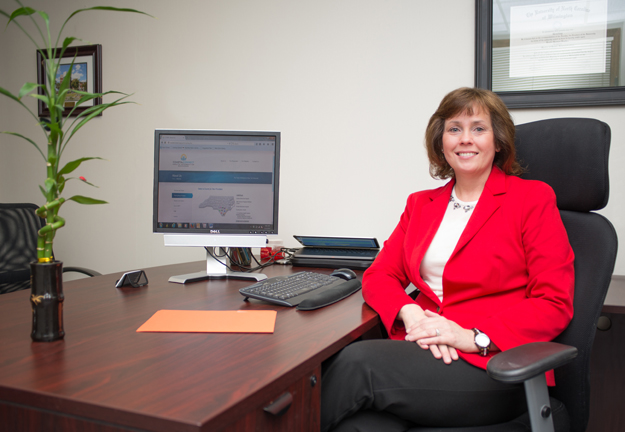 YVONNE HUGHES is on a mission to improve patient care through a regional health care information network.
Hughes, CEO of COASTAL CONNECT HEALTH INFORMATION EXCHANGE, has been working toward that goal since 2011, when Coastal Connect Inc., was launched.
The Wilmington native loves her job and the opportunity to work and live in her hometown.
"I enjoy working here because I feel like I am giving back to my community, and by working to have patient data readily accessible to providers, everyone who lives here, including my family that are scattered out in surrounding counties, will benefit," Hughes says.
The ultimate goal?
"Better health outcomes," she says.
Coastal Connect Health Information Exchange (HIE) was created in 2011 as a way to securely connect health care providers and hospitals in and around southeastern North Carolina.
By electronically sharing patient medical information, connected entities increase the efficiency of patient care.
"Having patient information available in real time has decreased the duplication of tests and procedures as well as improved care management and the overall patient experience," according to the Coastal Connect website.
Hughes has many professional accomplishments in her career.
Her proudest achievement "is helping to establish Coastal Connect HIE," she says.
The company has four full-time and two part-time employees. The need for the services of Coastal Connect has grown as increasing numbers of hospitals and physician offices convert to use of electronic health records.
Information made available to providers through Coastal Connect is important for providers, but patients also benefit, Hughes says.
Patients who visit clinics or hospitals outside previously established networks often face redundant tests and examinations and other risks. The health care system also incurs unnecessary costs.
Hughes led efforts in 2011 to create an information exchange that connects affiliated and unaffiliated health care providers in rural sections of North and South Carolina through electronic health records.
Hughes sees Coastal Connect as a way to ensure patients receive "optimal care" and providers "are as efficient as they can be."
Colleagues in the health care network understand the importance of the Coastal Connect mission.
Hughes enjoys "the collegiality of the leaders in this region and working alongside them to improve the health of the people who live here," she says.
Hughes has served as CEO of Coastal Connect since February 2010 and began work with the Coastal Carolinas Health Alliance in 1998, serving in several administrative positions along the way.
Hughes received an MBA degree from the University of North Carolina Wilmington and has a bachelor's degree in business administration from University of Mount Olive.
The leadership, outreach and education Coastal Connect and Hughes bring to health care providers in the region are "innovative and lasting," Heather Crumpton, Coastal Connect's quality and education supervisor, recently wrote in a nominating letter for the national Modern Healthcare's Community Leadership Award.
"Yvonne's ability to identify and address the needs of our populations, healthcare organizations and patient care teams is outstanding," wrote Lydia Newman, executive director of Community Care of the Lower Cape Fear.
Newman also wrote that Hughes "has a unique and forward-minded approach, aligned with systematic planning that allows for practical acceptance and adoption of innovative techniques."
To view more of photographer Katherine Clark's work, go to www.katherineclarkphotography.com.