October Spotlight
Locally written and produced play heads to the Big Apple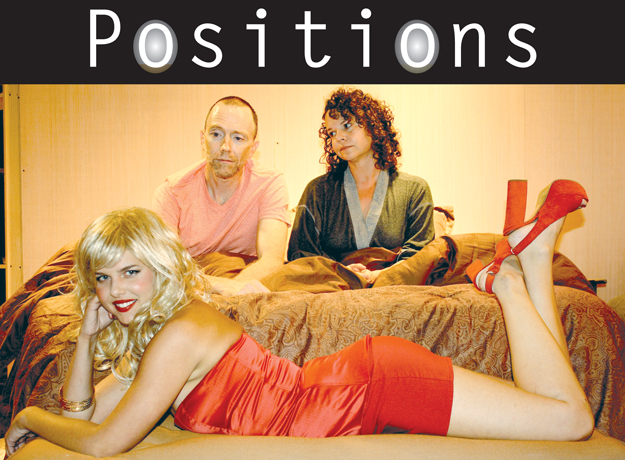 Positions heads to NYC
The locally written and produced play Positions, starring Wilmington Theater Awards winner MICHELLE GAGLIANO (top right) moves to New York City to begin production in October at the Times Square Arts Center.
The production, after running through April and May at the Red Barn Studio Theatre in Wilmington, will be somewhat different from how local audiences remember it as a few changes have been made to the second act by playwright Owen Dunne.
"It's the most fun I've had on stage," Gagliano said of the play about a married couple endeavoring to spice up their love life. Though Gagliano and Mike O'Neil, who plays her
husband, have not performed the piece in a few months, she said they and the rest of the
cast and crew are looking forward to staging Positions again in a new setting.
-Tara Slagle
Pearce becomes UNCW trustees chairwoman
When LINDA PEARCE recently was named the new chairwoman of the University of North Carolina's board of trustees, she became the school's first African-American woman to hold the position.
Pearce, an alumna of N.C. Central University, is serving her second term on the board.
She is CEO of Elderhaus Inc. and with the Williston High School Alumni Association helped create a scholarship at UNCW.
-Corbin Murray
Rural Academy Theater tours the state
The RURAL ACADEMY THEATER, , a project begun by brothers Gabriel and Noah Harrell, is a celebration of small towns across North Carolina. Natives of Burgaw, the brothers began the project to bring live art to rural areas.
During its stops, the troupe of performers from Burgaw incorporates each town's individual culture. The show includes a local guest lecturer and local musicians. Under the light of oil and gas lamps, the troupe performs using the horse-drawn wagon that they travel in as a stage. Two silent films are also projected by the use of a bicycle-powered projector.
Its current tour, primarily in rural towns across the western portion of the state, began on Sept. 29, and will stop in cities including Boone, Asheville and Black Mountain. The tour is scheduled to conclude in Burgaw on Oct. 25.
-Vicky Janowski
AmeriCorps volunteer to focus on Virgo
JANA JONES HALLS for the next year will be organizing volunteers to help strengthen community ties with a downtown Wilmington school.
She recently joined the HandsOn Corps VISTA program as its new AmeriCorps VISTA participant.
As an AmeriCorps VISTA participant, Halls will be volunteering full-time for a year, working on behalf of HandsOn Schools, which seeks to aid students in at-risk areas to succeed in school. She will be recruiting parents, school administrators, teachers and other members of the community to help improve schools and provide more resources for Wilmington's Youth Enrichment Zone, located in the area around the newly reopened DC Virgo Preparatory Academy.
-Tara Slagle