October Checking Out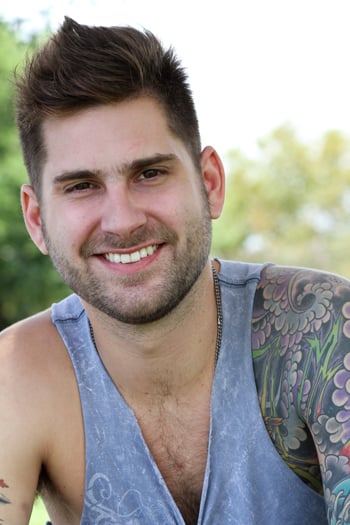 ZACK MESSICK, 27, loves music and playing anything with a string. As lead vocalist of the metal band The Demonstration, he spent several years on the road, touring everywhere from Whiskey-A-Go-Go to a ballroom in Wisconsin. He divulged a few stories of loud and raucous adventures, but he laughs if you say he lived a "rock star" lifestyle. Now that he's in Wilmington, biking, boating and his dog are more of what constitute living the high life.
And his other favorite perk of living at the beach?
"Saturday mornings. Waking up and riding my bike down to Roberts (Market) to get a biscuit. A Southern man needs his biscuits."
W: You have a pretty interesting job now, tell us about it.
ZM: I work at Dry Corp. We make waterproof bags for electronic devices. I basically run the warehouse's day-to-day activities. I work with my brother Jordan and some of my closest friends so it's an amazing work environment to be a part of. Recently, we were on GMA (Good Morning America) and the front page of Yahoo News – sandwiched between Bieber and Obama clips.
W: Do you get to try out the products too?
ZM: Yes, we're always testing them. It gives us an excuse to get out on the water. We say, "We gotta R&D this."
W: How did you get started in music and who was your biggest influence?
ZM: I started playing bass in a punk band as a kid. It was my dad who turned me onto the Beatles versus the Rolling Stones and taught me melody and harmony. That actually all does transfer into heavy music.
W: Tell us about a couple of your tattoos.
ZM: All of my tattoos are family related. My first tattoo was our family crest and last name on a ship. I also have a sailing compass for my dad – pointing north – because he's always giving me direction in life. And a lotus blossom for my mom – she has the same one.
W: Did she get it first or did you?
ZM: She had it first, and then I got it for her. My mom actually has a lot of tattoos.
W: Favorite spots to hangout?
ZM: Loggerheads or Lighthouse because I can take my dog there, and I'm a big people-watcher. No one knows my name, but they know my dog. They'll say 'Oh look, it's Turner … and that guy with him.'
To see more of photographer Amy Conry Davis' work, click here.