November's Take 5
Take 5 from Michelle Connolly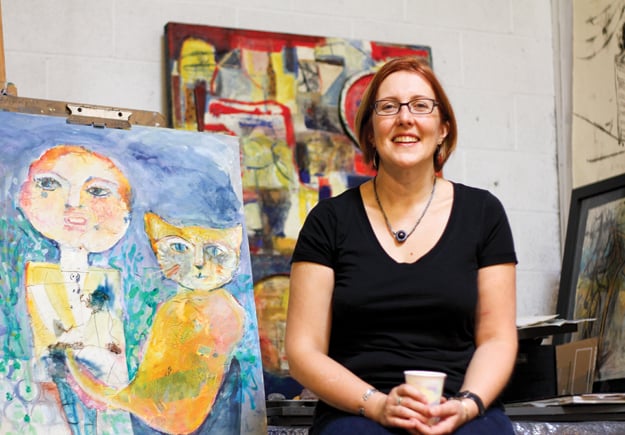 Wilmington mixed-medium artist Michelle Connolly is director of the annual No Boundaries International Art Colony. This year's retreat takes place this month on Bald Head Island and will be Connolly's final before she moves to Australia. She says she will still work on next year's event from abroad to help with the 2015 art colony before a new director is named. Here she shares her five sources of creative inspiration:
"ART HISTORY – I'm inspired by many visual artists: Picasso, Matisse, Chagall, James Castle, Thornton Dial, David Butler.
I love children's artwork. It's so free, pure, and playful.
FOUND MATERIAL – Although I love traditional materials I enjoy playing and improvising with found materials. I am a collector of odd things. For example, a found piece of bent metal spoke to me artistically. I saw two dancing couples in the beautifully shaped metal. I got out my oil paint and painted into the form.
MUSIC – I love to listen to all sorts of music. It transports me away to another place with its energy and imagery. BB King, Tom Waits, Rolling Stones, Dog Trumpet, Mandolin Orange, and The Paper Stars are some of many favorites.
FILM/DRAMA/COMEDY – My artwork has a narrative quality with reoccurring themes of circus, performance, and dance. The images I create often relate to characters that I have met or that I see in my mind's eye.
NATURE – Inspiration is all around us: land and sky and natural resources. One of the many things – apart from emus – I love about Australia is the beauty of the landscape and the colors in nature."
To view more of photographer Amy Conry Davis' work, go to www.gypsypye.com.