November Take 5
Taking direction from Natalie Lentz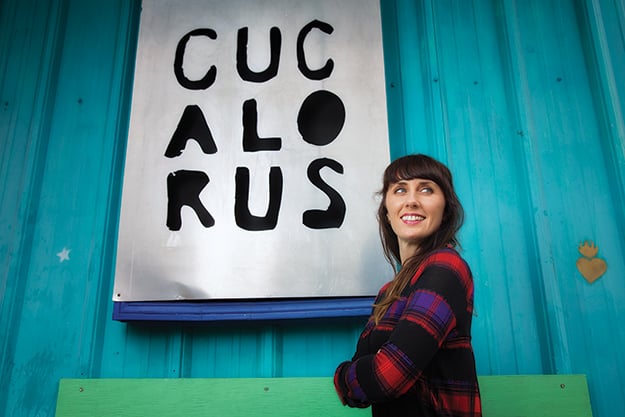 NATALIE LENTZ started volunteering for the Cucalorus Film Festival – taking place November 9-13 – several years ago shortly after moving to the area. She helped with its fundraiser and went on to work in the box office as a seasonal staff member during the fall 2013. As programming coordinator, a full-time position she has held since 2014, Lentz manages the film submission and review process for the annual festival.
WHEN YOU ARE CONSIDERING A FILM FOR POSSIBLE INCLUSION IN THE FESTIVAL, WHAT DO YOU LOOK FOR?
Hands down, I look for something that grabs my attention and is fresh and new. If it's a feature, I look for those that have been released within the past six to eight months, and under a year for shorts. We keep a balance of local Wilmington and North Carolina films, U.S. South, spreading a good selection out over the U.S. and then pull in international films. We're really excited this year to have half of our films directed and produced by females – not as a 'special feat,' but as something that should be happening and set as a standard."
WHAT IS YOUR FAVORITE PART OF THE ANNUAL FIVE-DAY FESTIVAL EVENT?
"Late nights in Jengo's Backyard. That's the time and place everyone gets to connect with each other and have deep conversations or lighthearted chats while huddled around a bonfire."
WHEN THE FESTIVAL WRAPS, HOW DO YOU DECOMPRESS AND GET ENERGIZED FOR THE FOLLOWING YEAR?
"I bury my computer and hibernate for two months!"
DO YOU HAVE A FAVORITE FILMMAKER OR FILM?
"Well, this year my favorite film is The Love Witch by Anna Biller."
DESCRIBE YOUR IDEAL WEEKEND DAY SPENT IN WILMINGTON.
"Watching the sunrise at Wrightsville Beach, eating at White Front Breakfast House, getting a little done around the house, going for a walk/run combo, and then spending some time downtown to end the day – all with my love and other half, Quinn, by my side."
To view more of photographer Chris Brehmer's work, go to www.chrisbrehmerphotography.com.