November Spotlight
Area women making news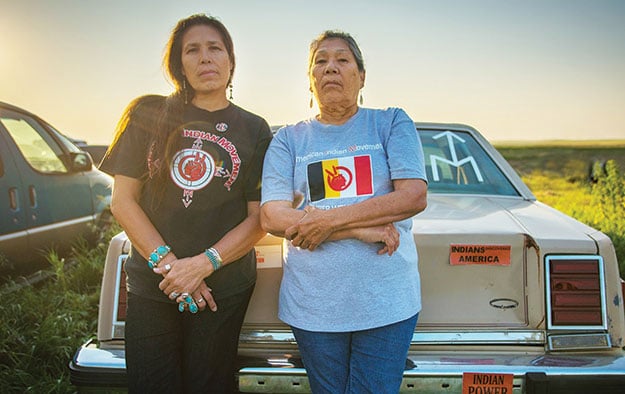 CUCALORUS CONTINUES ITS EXPANSION
CUCALORUS FESTIVAL, which continues its efforts to diversify its lineup with more music and events on top of film screenings, will take place November 7-11.
Superchunk, a North Carolina indie rock band, will open the twenty-fourth annual festival followed by a Dancea-lorus performance.
The festival's Connect Conference will start on November 8, with speakers and sessions on startups and entrepreneurs. This year, the festival is still committed to presenting diverse films with the goal of having half of its films from female directors, organizers say.
One of the films featured this year is Warrior Women (above), which follows the story of activist Madonna Thunder Hawk, leader of the American Indian Movement and her daughter. The film was directed by Elizabeth Castle and Christina King.
-Johanna Cano
BALLENTINE JOINS COASTAL HORIZONS BOARD OF TRUSTEES
Cape Fear Community College Dean of Health Sciences ANGELA BALLENTINE joined the COASTAL HORIZONS Board of Trustees.
Ballentine said she wanted to serve on the board at Coastal Horizons because "they address issues I care about."
"I have a passion to assist in preventing problems that challenge the health and welfare of the community," Ballentine says. "I am interested in learning about the community and working collaboratively with my fellow board members to improve the well-being of its citizens."
CFCC recently launched a Substance Abuse Technology program within the health sciences division with the hope that the college would become another resource to address the issue in the region, officials say.
"I know Dr. Ballentine's expertise will truly be an asset to their important work," CFCC President Jim Morton says about the addition to Coastal Horizons, "and her experiences on the board will help us strengthen our instruction at CFCC."
MYBEEHYVE A FINALIST FOR NC TECH AWARD
Locally based MYBEEHYVE was among three Wilmington-area companies named as finalists for this year's NC TECH AWARDS, which recognize excellence and innovation in the state's tech industry.
The NC TECH Association, which runs the awards, included myBeeHyve as a Top 10 Startup to Watch in the Technology Corporate Awards division.
Founded by JENNIFER TURNAGE and MEGAN SUMRELL, the firm offers a contact management system built to address the needs of a growing network marketing industry.
"We're very excited to be recognized as a Startup to Watch and honored to be included in the company of so many of the tech giants in our region," Turnage says. "As a native of North Carolina, I'm very thankful to be part of a supportive and resource-rich community in which to launch and grow myBeeHyve. This award will support our efforts to share the myBeeHyve app."
myBeeHyve was also selected to participate in the Rocket Pitch Competition at this year's Cucalorus Connect in November. KWIPPED and SWELL Systems also were included as finalists for this year's awards, which will be announced at the NC TECH Awards Gala on November 15 in Durham.
WSO PROMOTES NICOLE THOMPSON
The WILMINGTON SYMPHONY ORCHESTRA promoted NICOLE THOMPSON to a full-time position as marketing and operations director.
Thompson has previously served in a part-time role with the organization since September 2012.
In her expanded position, she is responsible for all aspects of marketing public relations, concert production, as well as youth education, and community engagement.
Thomspon holds a degree in music from Minnesota State University and has held a variety of positions in arts and entertainment.
Prior to moving to Wilmington in 2011, she was co-owner of Bradford Entertainment, a Minneapolis based production company. Also in Minneapolis, she served as arts administrator for the Lundstrum Center for the Performing Arts.
Founded in 1971, the Wilmington Symphony Orchestra includes about seventy experienced musicians from the region and holds concerts throughout the year as well as organizes a youth orchestra. Thompson is a previous participant in WILMA's Women to Watch Leadership Initiative's mentoring program.