November Spotlight
Area newsmakers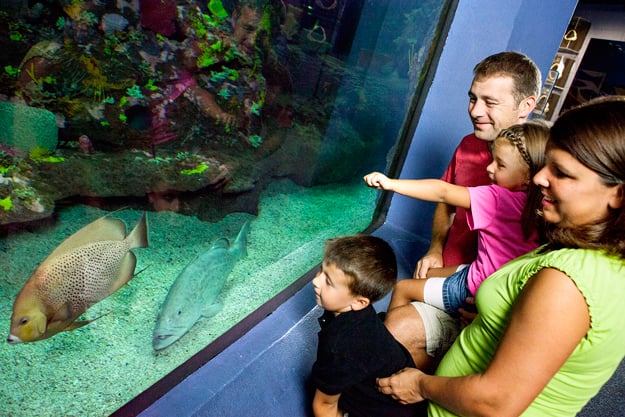 Fort Fisher lands on Travel Channel list
NORTH CAROLINA AQUARIUM at Fort Fisher recently made Travel Channel's list of top 20 aquariums in the U.S. The 93,000-square-foot aquarium is home to more than 3,000 animals, from stingrays to freshwater carp.
In the online list, the Travel Channel's website highlighted the aquarium's location near Cape Fear, pointing out the live shark and alligator visitors can see. "You and the kids will encounter plenty of fear-factor moments," the list touts. Other aquarium picks included the Baltimore National Aquarium and the Oregon Coast Aquarium.
"We are so honored to be included in the Travel Channel Family list," says Robin Nalepa, spokeswoman for the Fort Fisher aquarium.
Local Teen plays Pebble Beach
ASHLEY SLOUP, a senior at South Brunswick High School, played alongside Freddie Couples in the invitation-only Nature Valley First Tee Open at Pebble Beach last month.
She was chosen to be one of the eighty-one participants in the First Tee Open. Sloup was excited about participating, saying "it has to be the best experience of my life."
The trip came a month after Sloup and her South Brunswick High team won the state Mideastern Conference. Sloup plans to continue to her golfing career at Winthrop University.
Favory receives Boseman scholarship
ALLY FAVORY, a senior at University of North Carolina Wilmington majoring in studio art, has been honored with the Ann Flack Boseman Scholarship.
The scholarship is awarded to UNCW students by the department of art and art history. As part of the scholarship, Favory will have a solo student exhibition starting in November and running through December 20.
Favory created sculptures for the show, fusing found wood, steel, and homemade paper together to build her final project.
"I was really surprised when I received the scholarship," Favory says, adding that she is "incredibly honored" to share her sculpture series.
Favory also is editor-in-chief of Atlantis Magazine, a creative magazine showcasing the work of UNCW students.
Schoninger, Rosoff organize Jewish film festival
BEVERLY SCHONINGER and PEGGY PANCOE ROSOFF are the heads behind the inaugural Wilmington Jewish Film Festival, which is set for April 2014. Last month, there was a screening of Broadway Musicals: A Jewish Legacy, to give Wilmington residents a taste of what's to come.
The organizers want to create dialogue both within the Jewish community and outside of it through film and food.
The screening next year is being referred to as a full "cinematic meal."
The festival will begin Thursday, April 3, 2014, with a screening followed by a reception. A screening also is slated for Saturday night; and the festival ends with a sweet treat – two screenings – on Sunday, April 6.