November Checking Out
Outta the Park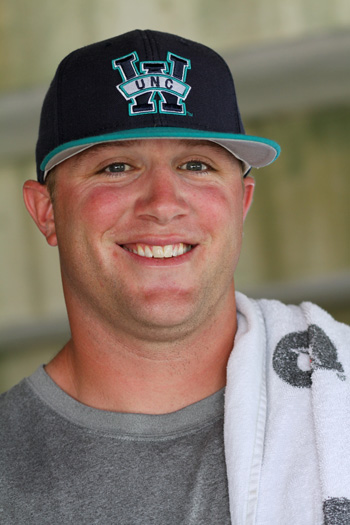 ROBBIE MONDAY lives for sports. Since graduating from college in 2010, he's worked as a sportscaster for a small radio station and coached baseball at Barton College. Two months ago, he took an assistant coach position at UNCW, and now it seems he's got the best of both worlds – baseball by the beach. WILMA stopped by a recent practice to talk about the ins and outs of coaching and life on the diamond.
"I enjoy seeing the guys we work with grow and get better and move on. As coaches, we're all trying to teach the same things, but it's about who's able to communicate and get their point across to get the players to do what you're telling them. I think that comes from getting your players to trust you and respect you."
W: In addition to assistant coach, you're also a camp coordinator. Tell us about that.
RM:  I basically organize all the camps that we have over the course of the year. Over the summer, it's usually younger kids. During the school year, it's usually high-school aged camps for kids trying to get recruited. We split them up into teams and play games to allow them to be seen by our guys. There's also other college coaches here too, so it gives them a good opportunity.
W: Tell us a little secret about the world of baseball players or the game itself.
RM: It's a very intellectual game – more so than people realize. When you're watching on TV, people don't see anything really happening so they think it's boring, but there are little chess games going on. Also, there are very, very diverse personalities. Very.
W: Who's your favorite professional player?
RM: Chipper Jones.
W: Do you have any female role models?
RM: Betty White, for sure.
W: What are your interests?
RM: Long walks on the beach – just kidding. I enjoy [playing] all kinds of sports and watching sports. I'm probably a pretty stereotypical jock – not very hard to please but not very complex either.
To view more of photographer Amy Conry Davis' work, go to www.gypsypye.com.