Neighborhood Spotlight: Brooklyn Arts District
The people and places that make up the northern downtown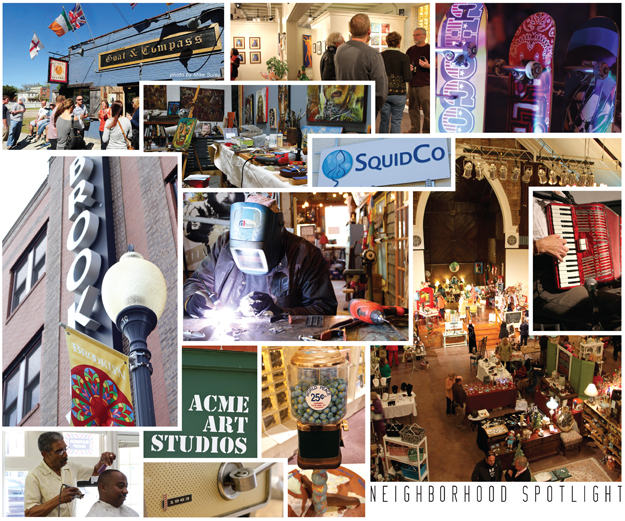 After hearing some buzz about the Brooklyn Arts district, I took some time to explore and discovered what's really happening in the northern part of downtown Wilmington.
Dennis Walsak, owner of Modular Graphics and Media moved his graphic design business to North 4th Street in 1994.
"The neighborhood was pretty rough at that time. It was an unlikely move for us, but one I have not regretted," he said.
Modular was ahead of the curve, and though at first glance the area lacks the bustle of Front Street, further investigation reveals a vibrant, growing community.
"The area has already seen so much revitalization," said Richard Leder, the director of the Brooklyn Arts Center at St. Andrews.
"Our role is to add to that. The Brooklyn Arts Center is a world class multi-use event venue that will put Wilmington and the greater community on the map."
ACME Art Studios, slightly afield on 711 North 5th Street, is a large brick warehouse full of gallery and working artist studio space. It offers monthly art openings and uninhibited creativity for local artists. Every Fourth Friday, ACME opens its doors to the public with a new exhibit. Check out the funky courtyard out back with metalworks and sculptures by resident artists.
The Goat and Compass pub has become a neighborhood staple, home to the Cape Fear Cornhole League, live music and a Tar Heels Fan Club. Co-owner Greg Matheson said he also sees a spike in sales every time the Brooklyn Arts Center holds a wedding or live music event.
My last stop was the Hair Doctors barbershop next door to the pub, where Tim Gore has owned and operated the classic shop since 1965.