Navigating Anew
Plunkett Dodge sails into new retail direction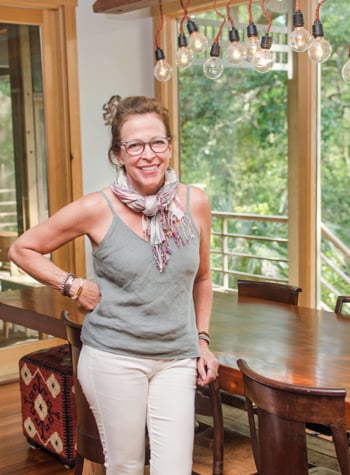 It seems like Plunkett Dodge is always embarking on a new adventure.
A serial entrepreneur of sorts, she owns multiple companies in the region and is known for her shrewd business sense and keen eye for fashion. From serving as a creative director for multiple women's boutiques to owning two restaurants, she has seemingly done it all – while raising five children at that.
Many thought she would retire after recently selling ISLAND PASSAGE, a handful of local women's fashion shops. But Dodge says she's not done yet. In fact, she's just getting started.
"I still have a fierce opinion and a complete love (for fashion)," she says.
"I think fashion is one of the most creative and fun and wonderful things, but I'm enjoying what I'm doing now."
Dodge will work alongside her husband and former Wilmington mayor, Harper Peterson, to grow their Bald Head Island stores, RIVERSIED ADVENTURE CO. and the SAIL SHOP. The equipment rental, activity, and souvenir shops are a far cry from her fashion stores, but she says she's ready to focus her energies on a different aspect of retail. The shops have become a creative venue for her, and Dodge says the retail space is just enough to suit her fancy.
The Greenwich, Connecticut native's background in retail began shortly after studying illustration at the Butera School of Art in Boston. She designed greeting cards full time, while creating handcrafted accessories on the side. She moved to Wilmington in 1983 and designed and sold silkscreen tees at her husband's golf cart and canoe rental store on Bald Head Island. That store was the original Island Passage.
The unique shop of rentals and stylish wares soon expanded into several locations throughout the Cape Fear region, including in Lumina Station and downtown Wilmington.
While the Bald Head Island store has since been renamed, it still offers women's and men's athletic garments. Customers can also rent golf carts, bikes, and beach equipment and partake in a variety of store-hosted adventures including GPS scavenger hunts and quiz bowls, all designed for family fun.
"We've been on Bald Head for thirty years, so we know the customer there really well … You have six to 7,000 new guests there every Saturday, and you have a constant stream of families, children, and men," Dodge says. "So we do the ghost walk, the treasure hunt summer camp. We have a great resort, retail presentation, and we have a toy store called the Friendly Fox, which is within our store, too."
Dodge's second business, the Sail Shop, provides kayak tours, surf lessons, and sailing trips for water enthusiasts, as well.
Both stores are seasonal, allowing her to do the things she never had time to do while running her Island Passage boutiques. One of her first priorities will be to return to school in the fall to study graphic design.
"I have a degree as a graphic designer and illustrator, but I graduated three or five years before everything went onto the computer. I'm perfectly capable of designing everything for our restaurant and stores, but I don't have the technical training (for computer-based design)," she says.
If running two stores and going back to school weren't enough, Dodge also co-owns the Delphina Cantina and Delphina Dos restaurants with her husband. Even she marvels at how she can muster the energy to juggle it all. She says taking care of herself helps.
"I get a lot of sleep, I eat really healthy, and I love to exercise. And God just gave me a high energy level," she says.
Dodge admits that she takes on sixteen-hour days, seven days a week at the Riverside Adventure Co. and Sail Shop, but their seasonal schedule makes her life far less complicated in the cooler months. She plans to spend much of her newly acquired downtime investing in her active lifestyle and the ones who matter most to her.
"I have a lot of really close friends all over the country and you'll see when you get to a certain age, you'll want to focus on what's important … you just want to make sure you don't have regrets on how you spent your time," she says.
From new business adventures to some much-needed downtime, there's a lot to look forward to, she says.
"I have three adult children in California and their significant others, so I really want to spend some time there. And my husband and I are enjoying owning these two restaurants too," Dodge replies. "I'm excited about all of it."
To view more of photographer Katherine Clark's work, go to www.katherineclarkphotography.com.