Music(Lee) Inclined
Check Out: Andrew Lee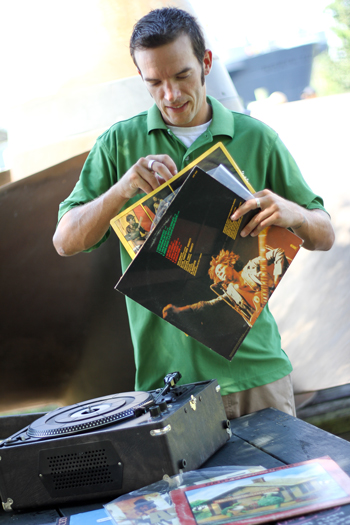 ANDREW LEE, 27, has a full-time construction job, but it's the nights and weekends when he gets to work on what he really loves. In his spare time, he co-manages an event management company, Pipeline Events, with his older brother Chris and co-founder Blair Walton. If you've been to an event at Greenfield Lake Amphitheater or Downtown Sundown, chances are you've seen him milling about the crowds making sure everything is in place and flowing as smoothly as the tunes. Originally from New Bern, N.C., Lee came to Wilmington for the reasons many people do: surfing and the beach. But now he stays because he believes Pipeline is making it all that much better.
"We're from small towns so we like to contribute to community … We're all a big family is all we are, so we just wanna take care of this area and keep the vibe going that we have here in Wilmington. It's a good music scene."
W: Why music?
AL: We're very music-related people. Me and my brother, growing up, were always listening to stuff and he would teach me rap songs. We love all music. Music is a very passionate thing and we just love every bit of it. There's nothing like sitting there listening to your favorite song and the feeling you get from it.
W: We're sitting here at Battleship Park because it's a venue Pipeline likes to use and you're going to have a Reggae Fest here soon.
AL: Yes, on October 26th, it's the Cali Roots Reggae Festival. There are gonna be about 12-15 bands and dueling stages. We also did the Donavan Frankenreiter show here. We like to do it here when we have something bigger, because it's so open. You can control this area pretty well when you fence it in and you have downtown right here.
W: How did all of this get started?
AL: A good friend of ours, Beau Gunn, who runs Penguin Radio, came to us. He was promoting all the shows, running them, managing them, doing just about everything and never had time to actually enjoy them. So, he asked us to help. And that's when we came in. Basically, we manage everything: we do load-in, load-out, hospitality, clean up, keep things stocked, etc. Chris and Blair get it all put together and once the show starts, I'm running around making sure everything is happening.
W: How is Pipeline staffed?
AL: We do it on a volunteer basis, mainly college kids because they're really into this music and so they're helping us out a lot. You put your info on our website and we pick names randomly. You get to come, help us out and as soon as you're done, you can go in and see the show. It's a "give and take" gig. We make everything run, we're like the backbone.
W: Pipeline doesn't limit itself to music. What are some other events it has been part of?
AL: Once we started with Beau, other people started seeing us and what we were capable of. We did the Castle Street Penguin Arts Festival and Truckaroo.
W: We can't forget the dog. This is not Shug Knight's first appearance in WILMA….
AL: Yes, she was at Goat and Compass for the shoot about dog-friendly bars. She's such a people-person dog. She wants to see everyone. I hardly have to put a leash on her. She goes right to the bar, hops up on the stool, and waits for me to get there.
To view more of photographer Amy Conry Davis' work, Visit http://gypsypye.com/