Muse Material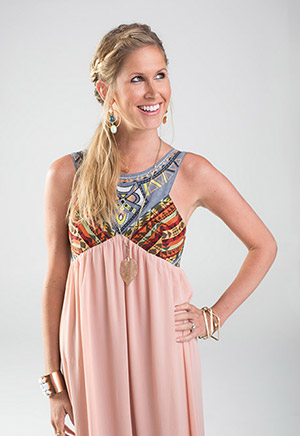 Many of the most fashionable individuals we know have taken their style cues from someone equally inspiring.
Some are moved by the demure, yet timeless style of Audrey Hepburn or the glamorous panache of Marilyn Monroe. Even today's celebrities influence women in their daily fashion choices, thanks to the round-the-clock coverage of stars. We chatted with five, stylish business owners to find out whom they lean to for fashion inspiration and asked them to channel their fashion heroes for our style pages.
JENNA DODD MCKNIGHT
Owner of Aqua Fedora at Lumina and Downtown
STYLE ICON: Stylist, Editor, & Designer Rachel Zoe
Jenna has a relaxed bohemian style that includes funky accessories and a lot of texture mixing, much like her style icon. Her shops' inventory mimic her style sensibilities and that of the iconic stylist Rachel Zoe, whose love of accessories and touch of bohemian flare are known throughout the fashion industry.
Jenna is wearing the Aztec queen MAXI DRESS ($68), gold EARRINGS ($12), Gwen CUFF ($20), square BANGLES ($32), and orb RING SET ($14), all available at Aqua Fedora; leaf NECKLACE (model's own)
What do you like about Rachel Zoe?
"I love her ability to throw something really wild on with other things that are downplayed and make it look wearable. I love people who can make something wild look normal. I like the way she can wear really exaggerated pieces but make them look completely wearable. She's kind of funky like that. And I love her chunky accessories. Something always pops with her."
How do you blend your iconic inspiration with your own look?
"I try to do the same thing, when I have at least one thing that stands out, whether it's with color or pattern. I also love the big earrings and just chunky accessories."
Does your love of Rachel Zoe show in your boutiques as well?
"Yea, I love getting a lot of different textures in (the store) and mixing patterns. I'd like to think that she'd approve."
What are your style must haves?
"I must have earrings on. I feel naked without earrings. If I leave the house and realize I forgot earrings, I feel like I have to go back."
JESSICA DE VAULT
Fashion and Brand Stylist
STYLE ICON: Celebrity Stylist June Ambrose
To Jessica, fashion is a form of self-expression. She's always been drawn to eye-catching details, bright colors, and playful silhouettes much like her style and professional inspiration June Ambrose.
Jessica is wearing a plaid maxi DRESS by Unique Chic ($39), available at Tickled Pink; black felt tall HAT ($39), available at ASOS.com; green BLAZER, fur VEST, and gold NECKLACE (all stylist's own)
What about your style icon do you identify with the most?
"June Ambrose is so grand and over the top. Every time you see her, she's wearing something completely different from the day before. For a while, she was sporting these magnanimous turbans with enormous sunglasses. Then you'd see her in tall hats, or she'd layer furs over sequins. But if you catch her on a television show, she was more subdued with structured pieces in bright colors. I just love that she doesn't limit herself and has many sides to her style."
How do you meld that with your personal style?
"I like to mix prints a lot and have fun with layering when the weather permits. My sunglasses are almost always huge or have some funky detail that makes me stand out. I do tone down my look a lot – walking around town in a giant fur jacket doesn't make much sense in a casual beach town. But in those instances, I let my curly hair do the talking or wear a bright color to stand out."
Do you encourage your clients to be equally over the top?
"I encourage my clients to wear their own style boldly and proudly. Find your style and wear it without apology. I know I don't dress like everyone else, but I wouldn't want to. I'm me. Like June Ambrose, I encourage my clients to have their own look, too. My job is to help them find their style, polish it, and wear it confidently."
SHANDA WEST
Owner of Tickled Pink
STYLE ICON: Jacqueline Kennedy Onassis
Shanda is known for her elegance and chic sense of style. Her look is no fuss but often pulled together with an eye-catching accessory. It's no surprise she takes her style cues from the former first lady.
Shanda is wearing a black dress by Stop Staring and a custom-made necklace and bracelet by ViNT Design.

Why Jacqueline Kennedy Onassis:
"She's classy and elegant. She's one whose style and personality I'd like to emulate.
She's a picture of grace and beauty and stature. The (portrait) necklines in her dresses were so beautiful. If I could, I would to just go back in time to wear those."
What were some of your favorite characteristics of Jacqueline Kennedy?
"She carried herself as graceful, meek, and mild, but she also was strong. And I feel like that I carry the meekness and the humble and the graceful. Well, I hope that's how I carry myself."
How do you blend your iconic inspiration with your own look?
"By simplifying things, her outfits back then were simple. Many of her pieces were dresses. And when you're in business, you're always on the go. So I like something I can grab and go that's simple and classic. That's key for me."
What are your style must-haves?
"I loved her pearl necklace and anything simple, as far as accessories go. That's why I love my custom-made necklace and bracelet from ViNT Design. I wanted something pink with it, and she found a special broach and vintage clip earring for the design. I love the simplicity of it and that it's a statement piece, as well. It's one of those pieces I can wear almost everyday and it reminds me of Jackie O."
KELSEY GIBBS
Owner of The Wonder Shop
STYLE ICON: Ada Lucas, her grandmother
Kelsey is known for her quirky style and love of vintage and secondhand wares. Her look, she says, is not just about style but is a conscious way of life.
Kelsey is wearing a vintage sequin TOP ($56), vintage yellow silk SHIRT ($22), vintage white chiffon palazzo pants ($75), Valentina T-strap HEELS ($125), all available at The Wonder Shop; 1940s striped hat (model's personal heirloom)
What about your style icon do you identify with the most?
"I love her all-or-nothing style – she's either dressed to the nines or doesn't have her teeth in and is eating ice cream at 3 a.m. She saves stuff like a squirrel, much like I do. Granny, mom, and I all went to estate and tag sales together when I was younger. They taught me how to love secondhand, and now I love it even more for its environmental appeal."
How do you meld that with your personal style?
"It goes pretty deep. Not just clothing but they way I purchase other things, too. Shopping from locally owned businesses, buying organic, supporting local farmers, buying food without packaging, avoiding disposable plastic, all things I can do everyday to lessen my impact on our home and neighboring species. My personal style and love for vintage became a whole new lifestyle."
What do you think are some of the identifying characteristics of your icon's style?
"Granny has a Playboy pink convertible Mustang and used to drive down Franklin Street in Chapel Hill with a life-sized, stuffed gorilla in the passenger's seat. So imagine that kind of fun, in an outfit."
TONI WHITAKER
Owner of TMW Modeling, Productions and Talent
STYLE ICON: Dancer Judith Jamison
Toni has an eclectic style that incorporates muted neutrals with pops of color. Her striking silver tresses and simple color palette have become her signature look.
Toni is wearing a TANK ($148) and cropped pants ($158) by Eileen Fisher; short drapey JACKET by IC Collection, and silver EARRINGS by Jessica Simpson ($25), all available at Dillard's; bracelet (model's own)
How would you describe your style in light of Jamison's?
"It's eclectic. I don't relate to one particular look. I may be doing turbans one day, and the next time you see me, I'll be completely different. But I try to have my style to be somewhat like hers. I always have a couple of pieces, whether it is jewelry or handbags, shoes, that's going to really catch the eye. Your main garment can be very understated, but I may have on leopard print shoes, some type of elaborate scarf, a statement necklace, rings – anything that will make the outfit stand out."
Why is Jamison one of your style icons?
"I like her because of her love of the arts. I also like that she's straightforward, shoots from the hip, and is a no-nonsense woman. That reflects who I am. She likes to wear layers, and I really love layering with the tunics, capes, palazzo pants, and the long, flowing skirts. And of course I like her bold jewelry and short hair, too."
When did you first discover your love of Jamison's style?
"Years ago, the Dance Theatre of Harlem was doing some special piece that she had choreographed, and I had a chance to see her in person … When she's not dancing, she still has a movement that is flowing, and that's what really captured my eye about her."
How do you meld her influence with your personal style?
"I try to wear the layers, the scarves, and similar colors. She chooses one bright color to pop on the rest of the outfit."
Hair: Kate Bailey
Makeup: Danielle Forte
Photo Assistant: Nekira Woodbury
Fashion Assistants: A'ngelia Fonville and Caitlyn Campagna
Location: 2nd Space Photography Studio, 221 North Second Street
To view more of photographer Katherine Clark's work, go to www.katherineclarkphotography.com.