Mother's Journey
Journey 4 Josh Foundation holds launch party December 5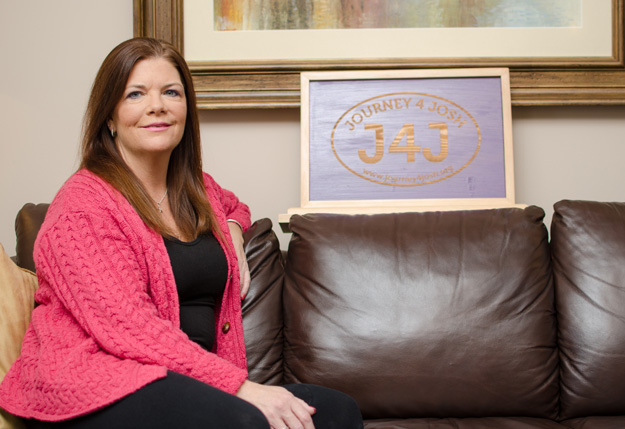 "I had blinders on. I couldn't see anything else. It was a crazy altered state of being," Patricia Proutey recalls as she sits on her couch and looks out on the cold Cape Fear River. "I just didn't function in this world."
In the face of a tragedy, an individual, family or community comes to a juncture where a decision must be made to – in short – sink or swim.
PATRICIA PROUTEY came to that juncture in 2012 shortly after her son Joshua Proutey was murdered during a robbery attempt in downtown Wilmington.
The story was chilling. The nineteen-year-old Cape Fear Community College student had just left his part-time job at the Hannah Block Community Arts Center, when he was shot in a nearby parking lot over ten dollars and a sandwich that December night. It's the kind of story that lurks in a place long after it stops appearing in the news headlines, rearing its head from the darkness, reminding everyone how frail life is.
In the months after her son's death, Proutey moved from Raleigh to her hometown in upstate New York to be with her family.
"I lay in bed and looked at the ceiling hour after hour," says Proutey as she remembers that time like it was another life yet so close that she can reach out and touch it.
One day while in bed, something happened that she can only describe as a revelation.
"I got up one day and thought, 'If Josh was here what would he say? Mom, get up and go do something good. Do what you've been telling me my whole life. Turn what looks like something to harm you into something that can benefit other people,'" Proutey says.
Her thoughts turned to the people who killed her son – the four involved have since plead guilty in the fatal robbery – but something of surprising strength and compassion came from Proutey's reflection. She imagined what their lives had been like.
"I remember saying to myself that something terribly bad went wrong with these people," Proutey says. "They were raised in a culture where there was very little hope for their future and improving their economic status."
It was at this moment that Proutey chose to get out of bed and swim.
Proutey started doing research on the statistics of children living in poverty in New Hanover County. Then, she checked into the steps required to start a nonprofit.
"I could do what Josh would do if he was here," Proutey says. "I could reach out to the people like those that murdered Josh but at a younger age … and get them involved in something they're passionate about."
It was this revelation that spawned the JOURNEY 4 JOSH nonprofit.
Proutey moved to an apartment in downtown Wilmington. Her choice to move just a few blocks from where her son was killed came as a shock to some people, but Proutey is passionate about her reasoning behind living downtown.
"(Josh) loved downtown. His murder could've happened anywhere. When people started saying that Josh's murder kept them from coming downtown, I knew I had to be very vocal about the fact that downtown is not a dangerous place," she says.
She defines Josh's connection to downtown by describing one of her visits to Wilmington to see her son. He took her to The Cotton Exchange, but not for the shops or restaurants. Josh was interested in the architecture and history behind 19th-century structure. Proutey remembers his enthusiasm as he walked her though the building, telling her about cotton exports in an older Wilmington.
When asked to talk about the Journey 4 Josh Foundation, Proutey doesn't start by talking about the mission or the idea behind it. She starts by talking about what Josh was like.
"He was a really good-hearted kid," she says.
Proutey has a certain glow when she talks about who her son was in his life, smiling at memories such as Josh being voted most likely to pull a prank at his high school. A table adorned with photos and other physical reminders of Josh sits behind her.
Proutey tells stories of Josh drawing out plans to build homeless shelters in Smithfield, North Carolina, and his desire to collect blankets to pass out to homeless people in Raleigh.
They took yearly mission trips to Guatemala to work at an orphanage where Josh chose to eat and sleep in the orphanage instead of at the nice housing provided for them. It was there that they met Carlos who would become part of the family.
"Josh met Carlos when he was about seven, and he told me that Carlos was his brother," Proutey remembers with a laugh. "I let them go on believing they were brothers even though I knew it was impossible because he wasn't even up for adoption."
Two years later, the orphanage called. Proutey recalls the sound of glass breaking in the sink when she told Josh, busy washing dishes, that they would be adopting Carlos.
Josh had plans to go to the Marine Corps. He was taking classes to be a paramedic. Once out of the Marine Corps, he had plans to become a physician assistant and go back to Guatemala.
One of the last conversations Josh had with his mother was about a paper he was writing for school comparing two foundations. During this conversation he discussed starting his own group to help others.
"He said 'Mom, I could live on very little and put the rest away to start my own foundation,'" Proutey says. "What I'm doing is exactly what Josh would do if he was here."
Proutey saw that there were plenty of places in Wilmington that provide programs for children. Seeing no reason to duplicate that, Journey 4 Josh provides funding for children to take advantage of the already existing programs.
The nonprofit reaches out to at-risk children from five to eight years old. There is an application process that requires someone other than a parent to be a reference for the child. Once the applications are received, a social worker goes through them and decides what resources would most benefit the child.
This summer, for example, the nonprofit paid to send two kids to camp.
Proutey hopes to take Journey 4 Josh to the next level on December 5 with its official launch party that takes place at Union Station.
This will be Journey 4 Josh's first public fundraising effort. The gala's purpose is to help provide financial support next year to children in need, getting them involved with activities their families otherwise would not be able to afford.
The event will offer heavy hors d'oeuvres and complimentary beverages. Tickets are $50.
Attendees will hear from Proutey as well as District Attorney Ben David who has provided personal support for Proutey throughout her grieving and healing process.
Proutey recalls times when David picked her up off the floor, when she thought she couldn't go any further, and times that he shared wisdom with her.
"He is the one who told me chasing a why is like chasing an elusive ghost. You can keep doing it, but you'll never catch it … That little bit of information changed me completely; it changed where I was," Proutey says.
"The people of Wilmington have been so supportive and kind to me," she says. "Between the police department and the DA's office, you guys are so blessed. Those people cared about what happened to Josh."
Journey 4 Josh Premiere Launch Event
Where: Cape Fear Community College Union Station
When: 6-9 p.m. December 5
For more information and to purchase tickets go to www.Journey4Josh.org.
For additional ticket information contact Elaine Anlyan at 264-7793 or eanlyan@gmail.com.