Mind and Body
Open Studio mixes health, creativity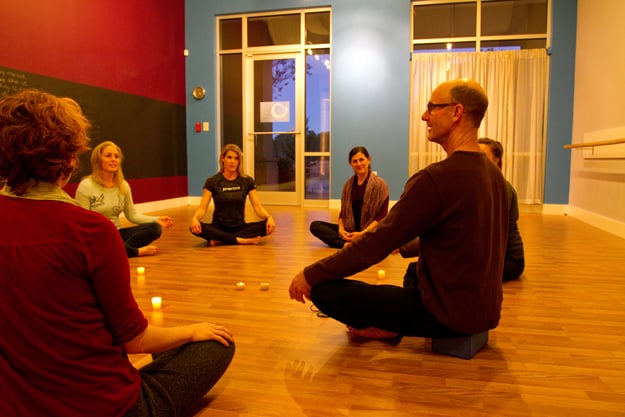 A basic tenet in the philosophy and practice of yoga is unity. When the mind, body, and breath are all aligned, a balance and a restorative kind of peace happens within the practitioner.
Off the mat, the same concept can be applied to a physical space as well. Include things such as learning, creativity, and a sense of community, add beautiful art and voila, what develops are places like OPEN STUDIO.
Situated off Military Cutoff Road, the aptly named space is the collaboration of two things that owner THOMAS SLATTERY knows and loves: art and yoga.
When he opened the doors in 2012, his mission was to bring people together under the auspices of those two interests. The services are as eclectic as the man himself – yoga, barre, meditation, hooping, gallery, gift shop, life/creative coaching, and even private art instruction and portfolio review.
Ever the Renaissance man, Slattery has a degree in chemistry but traded lab coats for twenty years traveling the world as a ballet dancer. Before he moved south from the Boston area, he ran two art studios and taught yoga for many years.
He says Open Studio's group of instructors has fostered its sense of community. Even outside of the classes, in the art gallery, the instructors' influence can be seen gracing the shelves and walls.
Slattery encourages their own artistic creations to be contributed alongside his works of sculpture, abstract paintings, and furniture pieces. Everything from handmade jewelry to photography and CDs to cookbooks are for sale and exhibit.
While Wilmington abounds with yoga studios for every kind of taste, the goal of Open Studio was to offer a simpler, more one-on-one kind of approach.
"It's for people who want to make a connection," Slattery says. "We're not intrusive, but people tend to want a community, and you start to learn that about people."
Open Studio's weekly meditation classes are also gaining popularity. Free and open to the public, the sessions are guided using breath work and visualization.
"There is no right and wrong. Just like if you're trying to learn a new language or instrument, if you dedicate yourself to it, say just twice a week for twenty minutes, just sit, just breathe – it does get easier over time," Slattery says. "There are days when it's gonna be a struggle for anyone, but that's when it's most important."
Slattery has also, on occasion, hosted field trips for local schools.
"There were seventeen kids," he says about a recent group. "And during the entire twenty-four-minute meditation, not one kid's eyes opened, not one kid moved, nobody squirmed, and afterwards, there were really good questions."
Slattery wants to continue making his studio interesting and available to people of all ages, incomes, and backgrounds.
"If I won the lottery tomorrow, I'd make the studio free," he says. "If I could give it away, I'd just give it to the community. Everybody should have this, and that's how you can tell that we believe in what we do."
To view more of Amy Conroy Davis' work go to www.gypsypye.com.